Being Simon's dad is not always easy, to say the least, but I see it as being one of the most important things that I'll ever do. It was a really challenging year, as we've had to navigate ADHD, the skin picking and challenges in school. On the flip side, we've seen some deeply emotional feelings from the kid, and some intense connections. And now he's 8!
We're starting to get to that point where I start to wonder when he won't want us to tuck him in at night. I remember puberty hitting me at 11, and that's only three years from now for him. He's a picky eater like I was, he wants to be in front of a computer like I did, and sometimes, it's clear to me that he isn't always struggling in school, he just doesn't care to do what he's supposed to. Fortunately, he's often charming, and he clearly gets that from Diana.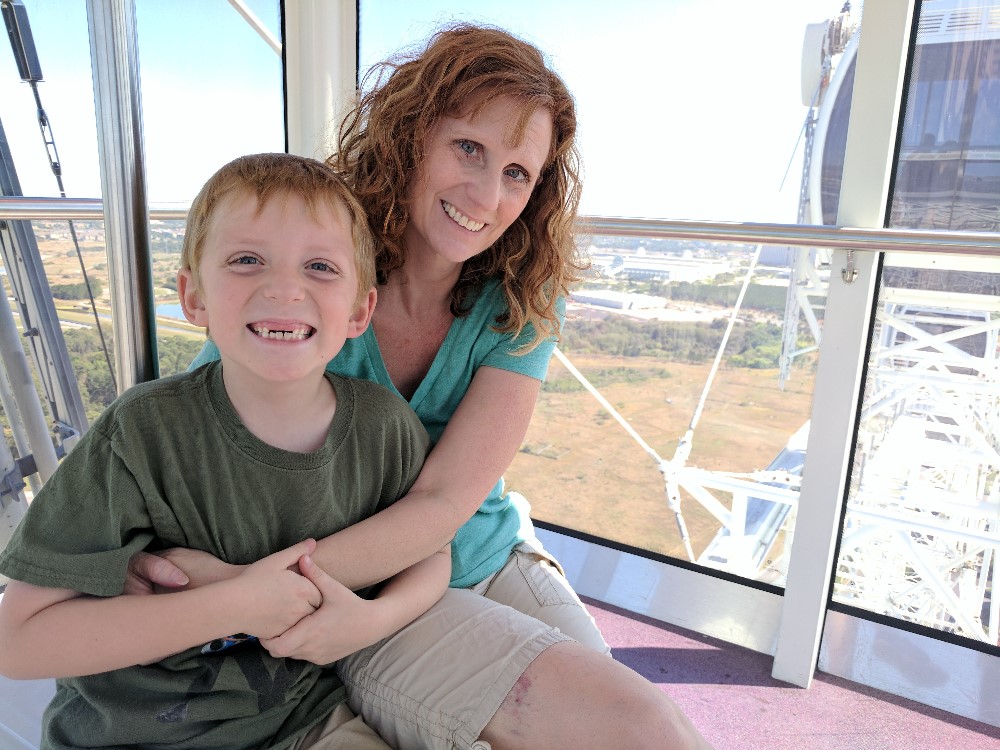 I don't know when Simon will realize that living around theme parks is not normal for most people. As part of the Legoland passes we had last year, we were also able to go on the Orlando Eye as often as we wanted to.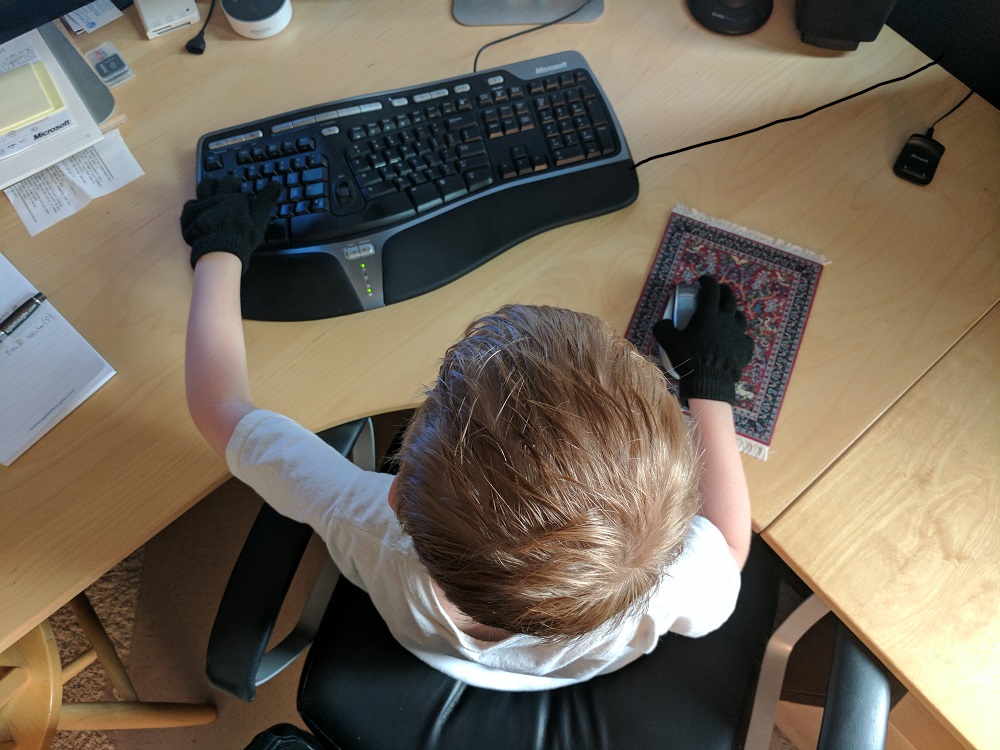 The picking problem got pretty bad this year, and it has taken a lot of months to try to get some healing going. Earlier in the year, it was mostly just him picking the pads of his fingers, and so we put gloves on him. Later came the arm and leg picking, which required a lot of long sleeves and pants, for months. We still don't quite have that beat.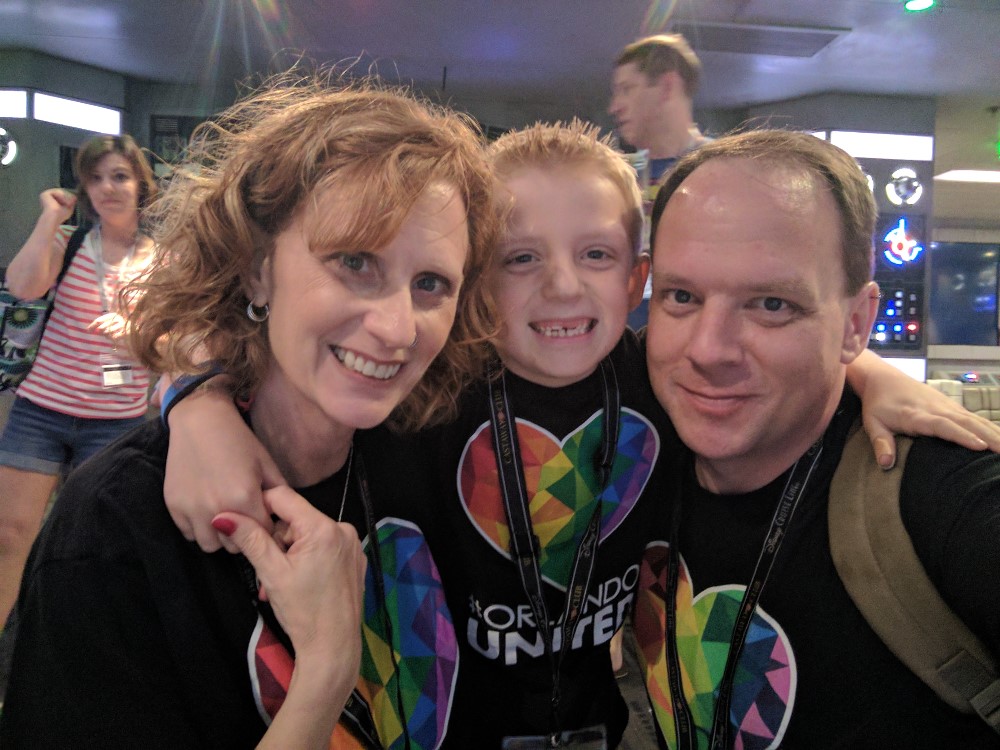 We did three cruises again this year... but Simon only did two. Already in second grade, it's hard to pull him out of school for any length of time. This was our 12th cruise, a super chill 5-night with two stops at Castaway Cay, the best beach days you'll ever have. He wanted us to wear the matching Orlando United shirts, as we have on previous trips.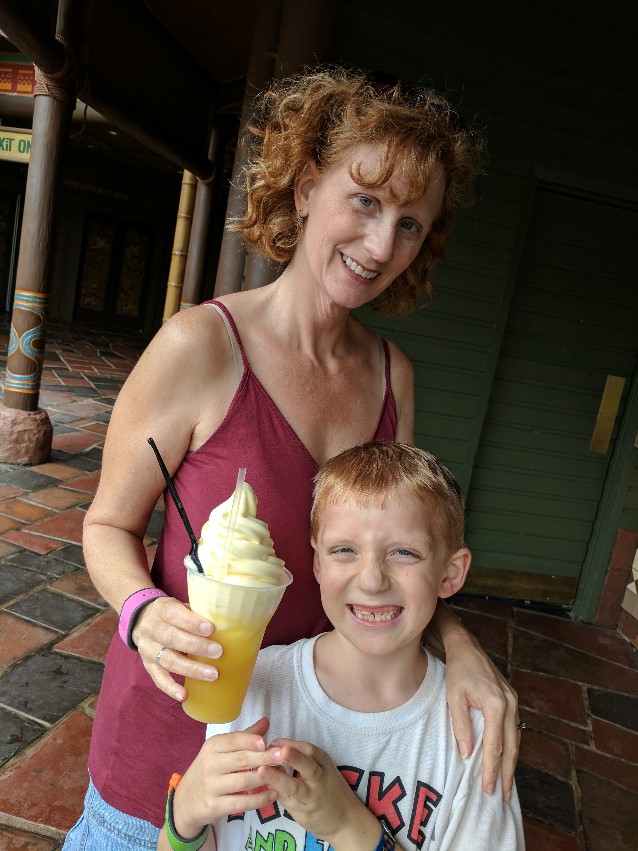 I'm not ashamed... one thing we do hard like tourists is Dolewhip. This wonderful substance makes any difficult day easier. If it's busy at Magic Kingdom, we'll get it at the Polynesian Village Resort. It's also available during some of the festivals at Epcot, and at Animal Kingdom.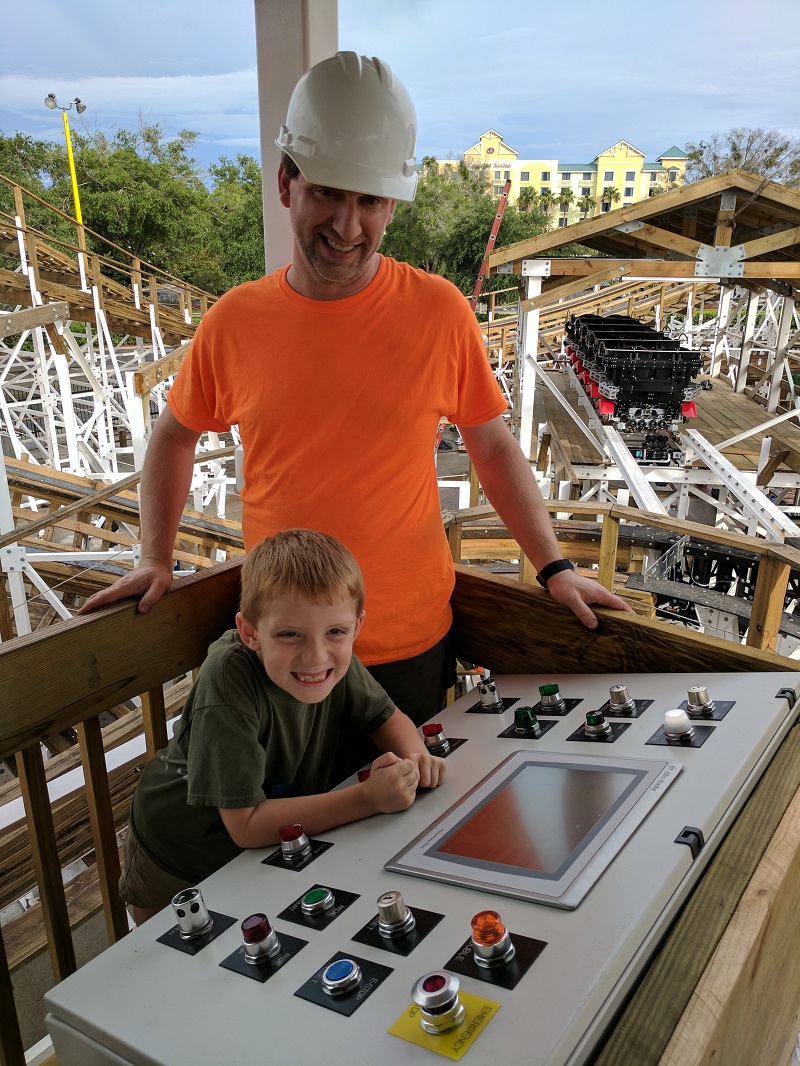 My friend Mike is a bona fide roller coaster engineer, so when he offered to show Simon around the new ride at Fun Spot, of course we had to take him up on it. This was my junior ride operator's dream come true. It made his summer. The ride had not tested yet at that point, but he was able to flip the transfer track, which might has well have been like running the ride to him.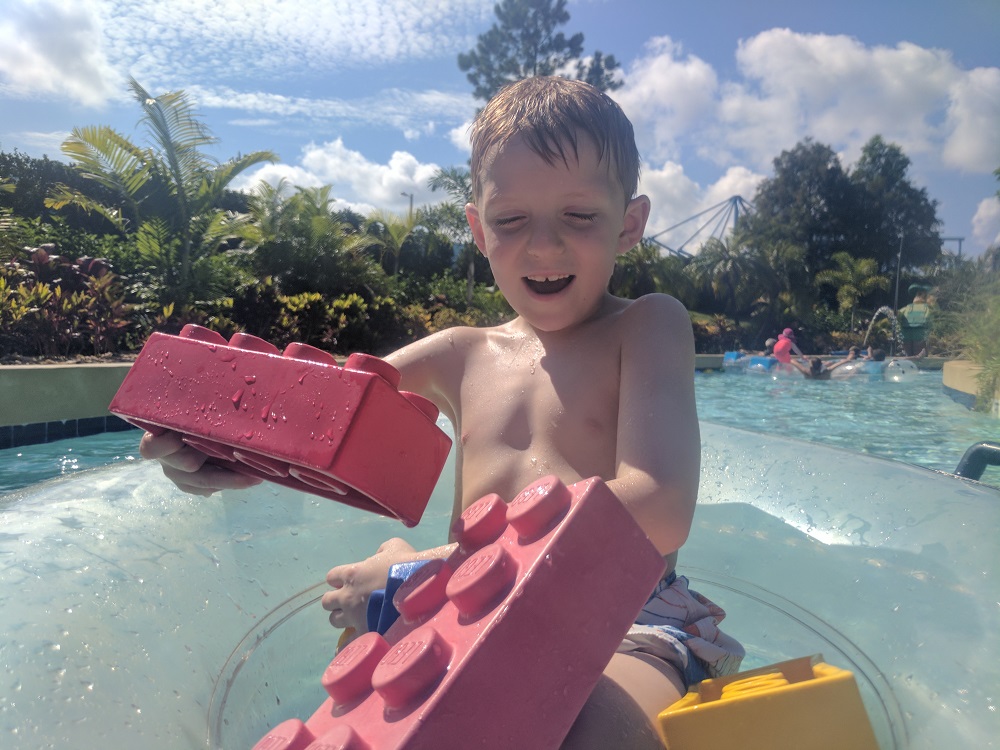 As I mentioned, we had Legoland passes last year, and they have pretty much the perfect water park for young children. Simon can do lazy rivers like a boss.
If you don't count a number of trips to see Blue Man Group, Simon had not been to Universal Orlando since he was 10 months old. A friend hooked us up with some comps, and we spontaneously took him on a lap of both parks. Finally, after 16 years, I got that credit on Pteranadon Flyers. Surprisingly, he got a lot of stuff too, in part because he didn't know what to expect. We had firsts together on Kong and Transformers, but he also did the Jurassic Park River Adventure, Forbidden Journey and The Mummy. Another year or two, and I suspect we might need to get passes there as well.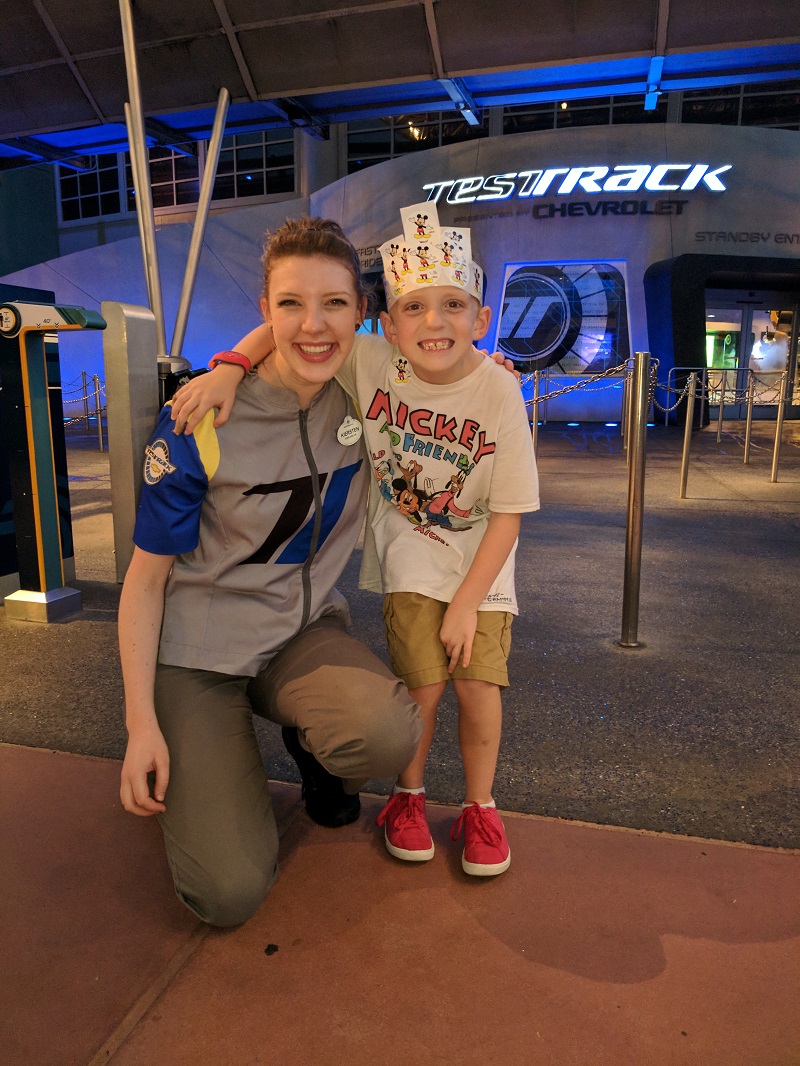 In the three days before Hurricane Irma, we might have had our best days at Walt Disney World ever. We were walking around Epcot with virtually no one there. Simon finally started riding Test Track earlier in the years, and he became a little obsessed with it. This night, the ride was down for light rain, but this amazing cast member, Kiersten, walked him into the ride and around the various queue and loading areas for a private tour. Her kindness and patience for his questions (which aren't always very clear) was fantastic. He was devastated when, a few months later, we learned she had transferred elsewhere. She really left an impression on him.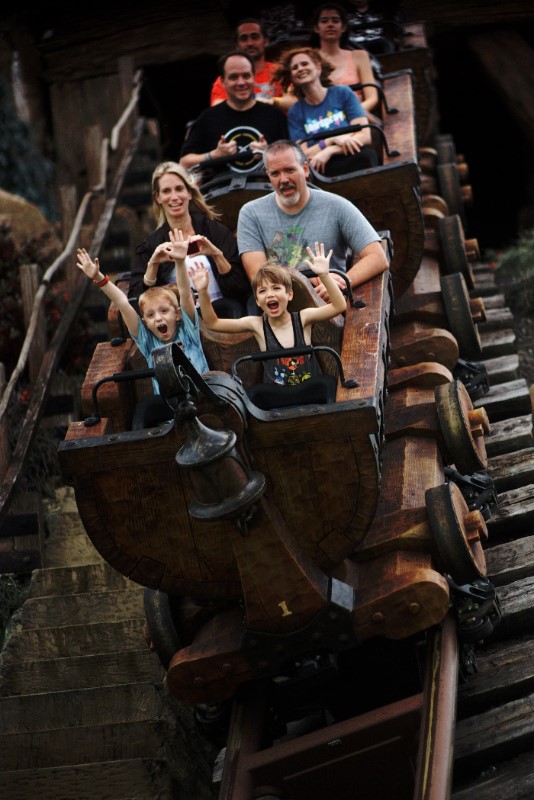 The hurricane prep didn't end there. The next day, we were at Magic Kingdom, where he got a front row ride with his friend Aiden on Seven Dwarfs Mine Train, at what one would consider a "not busy" version of the park.
During the storm proper, which peaked around 3 a.m., we put the boy to bed in the closet, because the side of the storm that often carries tornadoes was going to roll through overnight, and really, it's already so damn noisy that I'm not convinced anyone would react quickly. For him it was just another adventure. I didn't sleep much.
Whatever inner coaster nerd is left in me, this will forever be the year that Simon finally started riding Space Mountain. We're no longer restricted to the weakest rides at Magic Kingdom, because with this, he has now done them all. The final WDW holdouts are Rock-n-Rollercoaster and Expedition Everest.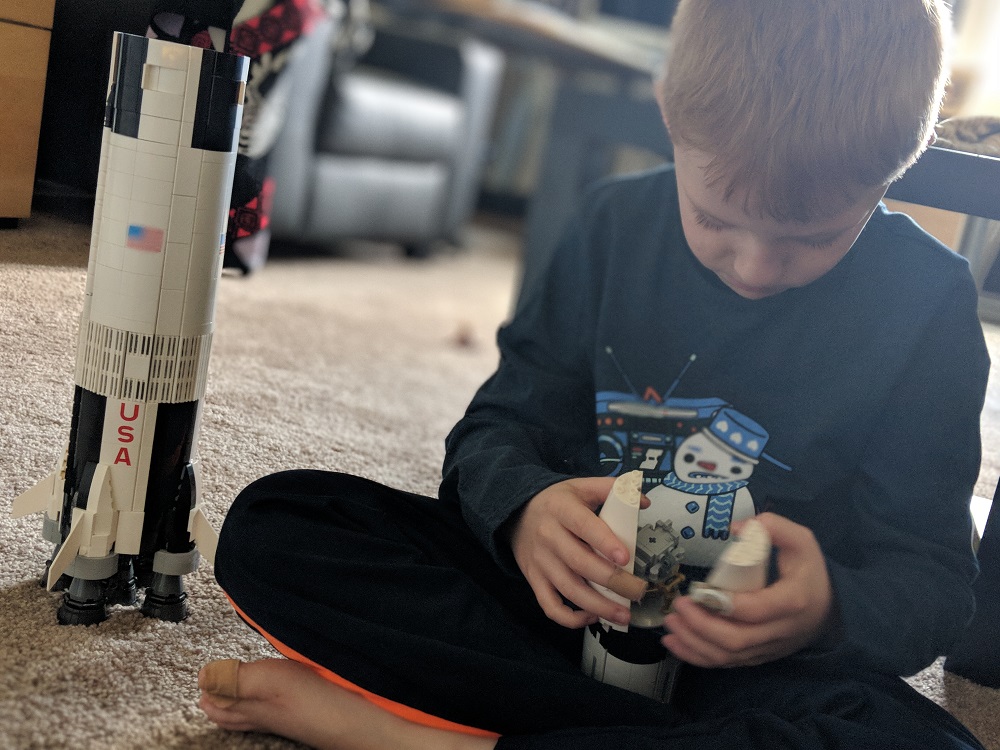 Lego is a part of our thing, and so are rockets, since we can see launches all of the time from home. In this case, we combine the two with a Lego Saturn V rocket. He can't understand why they used to throw away almost the entire rocket. He doesn't get that landed boosters are a recent thing.
This is a new favorite. During the longer show runs at Diana's work, she works more and Simon and I do more "boys' night" stuff. This was a Sunday night before a holiday, so we stayed out a little later at Magic Kingdom, then ended the night with Dolewhip at the Poly. It was a perfect night after a number in a row where his behavior was less than ideal. I like to hang on to those nicer moments.