Way back in May of last year, Disney opened up reservations for the maiden voyage of the Wish, the fifth ship in the fleet. It's the first of three "Triton class" ships. Since this one was going to call Port Canaveral home, it was pretty obvious that we should try to get in on that. The catch was that Platinum Castaway Club members would get dibs, in order of number of cruises. I think the first tier was 20, then 15 the next day, and so forth. Because of Covid, our would-be 20th and 21st were cancelled, so we were at 19. Diana got in early that second day, and we got a pretty good room on deck 10 forward, near the bridge. As best we can tell, the cruise was sold-out later that day.
It was supposed to sail in early June, but due to delays in building the ship, they pushed it into mid-July. They made it half-price for our trouble, which was welcome considering the premium added for this special cruise. There was a press/invite cruise just before ours, and of course the cross-Atlantic, but it was the first regular paying customer voyage. The ship was not entirely "done," but for the most part the things on the punch list were fit-and-finish kinds of things, like signage and the occasional broken thing. One of the movie theaters wasn't ready, and the AR scavenger hunt game around the ship wasn't ready either. As Diana pointed out, having opened two phases of our local performing arts center, if you wait for it to be perfect, you'll never open. There were also some operational challenges here and there, but I wouldn't characterize anything as a big disappointment. The only real negative is that this cruise was overwhelmingly adult, and it was rumored that there were only 200-ish kids. I would buy that, as Simon did not encounter a lot of kids in the youth clubs, and the bars were the busiest I've seen in our 21 cruises. There was also some ugly entitlement from the "I've been on 20 cruises" crowd, which, neat, so has everyone else on the boat.
Since everyone was special (platinum), no one was special other than the concierge folks. That mean we had a designated boarding time, which is something we're definitely not used to. Ours wasn't until 12:30, which isn't ideal because I was going to be hangry. On the plus side, the rooms were available immediately because the ship was "dark" the day before. We could drop our carry-on bags right away and go eat when we boarded at 1.
As usual, the crew announces your arrival, and you enter the Grand Hall. Instead of the atrium with the elevators, and classic cruise ship decor, the hall is meant to be more fantastic, and was designed to be a functional space from the start. It has a stage and a balcony where characters hang out. There's a corner carved out for the show tech guy. There are fiberoptic lights in the ceiling and columns and show lights that can be hidden (the door on one was broken). The bronze statue in this one is Cinderella, with fun details behind her that I'll let you discover. The chandelier is epic. I was worried that the fantasy over classic look would be too much, but for whatever reason, it seems appropriate here. They also converted the guest services desk into the multiple "stands" now typical of the hotels, so the crew is able to engage you more personally.
The standard verandah stateroom isn't that different from what they had before, but there are important changes. It's still a split bathroom, with separate toilet and shower sides. The shower now has a glass door, and it's so much brighter. The mirrors all have the embedded lighting around the edges. There are fewer drawers, but they've been replaced with cubbies in the closet, most of which wouldn't be used by most people anyway. The fridge is a drawer, which is neat. The TV's are full-size, 40-something-inch if I had to guess. There are USB outlets everywhere, some of which are even USB-C. The wood tones are much lighter, and the part above the bed has one of a half-dozen lovely scenes from various animated movies. We found the rooms comfortable as always, though it didn't seem to get as cool at night as it did during the day.
The ship's layout is largely a clean-sheet design. The theater is still forward and accessible from decks 3 and 4, and the main pool deck and primary buffet are on 11, but most other things are different. The common areas mostly lack long, straight halls, and you weave between spaces that are centrally located or outboard. The ship feels smaller even though it's a few meters longer because of this. There are two elevator shafts instead of three, but each one has 8 very speedy elevators, for a total 16 versus 14 on the Dream and Fantasy, 12 on the Magic and Wonder. There are extra stairs in odd places, like between 3 and 4 midship on either side, between 11 and 12 near the Hero Zone and Vibe, or on the exterior promenade between 4 and 5, and an observation deck on the bow. There is not a complete walking loop without stairs or crossing through the ship, which is kind of a bummer. The kids club is on 2, and you can take a slide down to it! There is no central bar district, and I don't think it matters much. There's a two-story cabaret theater called Luna that you can enter from 4 and 5, and we ended up wandering in there quite a bit. I don't think the layout is better or worse, save for the very long hike back to Cove outside on 13 aft, it's just different.
Marceline Market is the variation on Cabanas, the buffet restaurant, and it's a mixed story. It's beautifully decorated, named after Walt's home town, and I found it to be generally comfortable, if a little crowded at the various stations. None of the food is self-serve, only the drinks. In addition to the typical stations that include main stuff, seafood, desserts and deli, there is also a station specifically for kids stuff (mac-n-cheese, chicken tenders), and one for Asian stuff (east and south), and it's tasty. The weirdness is that they had the same lunch food on the second day as the first, so I only went back for breakfast.
And that's OK, because the counter service game has been super plussed. They have the pizza, grill and the ice cream as usual, but they also have a barbecue stand with smoked meats that smells amazing even to my non-red-meat-eating self, and the cantina which has tacos, burritos and bowls. I absolutely loved the cantina, and ate there at least four times, whether I was hungry or not. I wish they kept that one open late along with the pizza.
As much as I love the beach day at Castaway Cay, the food there is still pretty terrible, or at least it is for me as someone who mostly just eats chicken as a protein. They still serve this terrible dried out chicken that's never good. For awhile they had a spicy chicken sandwich (think Wendy's) that was perfectly serviceable, but that's gone. So basically I eat two bites of dry-ass chicken, a chocolate chip cookie and a bag of chips. I don't care for the corn either, which is wet. I don't see how they could objectively look at what they serve there and not see that it sucks.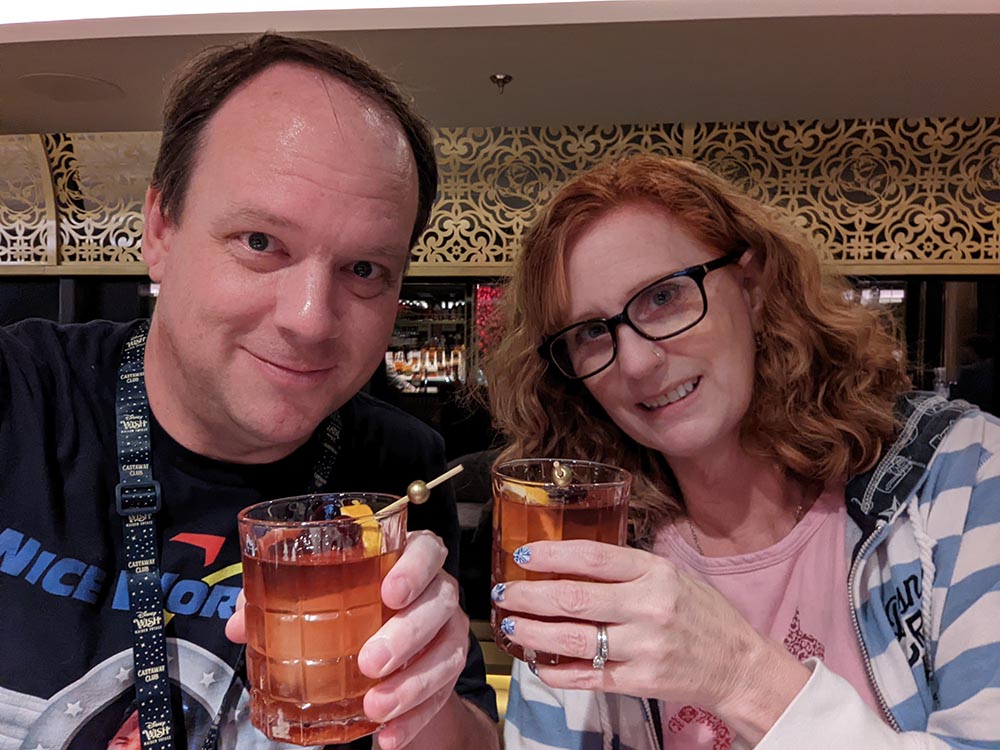 The bar scene varies, and there's a lot to choose from. The Bayou is like the open hub of the other ships' bar areas, only midship on 3, and it includes live music regularly. This area was super popular most of the time. Hyperspace Lounge is the Star Wars themed bar, and while we walked through when we boarded, we never saw the inside for service because it was reservation only and somehow booked before we boarded. It mostly looks like a less classy Skyline Lounge, with the "window" going to hyperspace on occasion. Keg & Compass has lots of beers and an adventure travel theme with fantastic decor (and some comfortable chairs), and they have a decent upcharge food menu that includes loaded tots and gigantic pretzels. We spent a lot of time there. The Rose is the fancy bar, the Meridian equivalent with the good stuff, and we also ended up there for some very great rum old fashioned rounds. There's a piano bar called Nightingale's right off the Grand Hall that's entirely too small, and we had our mixology session there. There are other, smaller venues spread out, but those are the big ones.
The dining rotation includes Arendelle, a Frozen beautifully themed room. As far as entertainment goes, it's the second best in the fleet, behind only Tiana's Place because the live music goes most of the service. A band of two with a pretty good singer does a bunch of tunes from both movies, including one of the B-sides cut from the sequel (so wish they would do "I Seek The Truth"). Oaken and Kristoff lead a sing-along to "Let It Go," which I imagine the kids would eat up if there were more kids. Olaf is an animatronic on a serving cart, and Oaken interacts with him as they move around the dining room. It's a decent little dinner show.
World of Marvel integrates a series of movie clips with the real actors from various movies, starting with Antman and the Wasp, as well as Ms. Marvel, Captain Marvel, the new Captain America and maybe others I don't remember. There are some interactive gags with a device on the table as well. I mean, Paul Rudd at dinner isn't all bad. I give them credit for doing original stuff with the film actors. Meanwhile, the third restaurant is 1923, named after the year the Walt Disney Company was founded. These are actually two restaurants, the Walt and Roy sides, accessible from the Grand Hall. They're filled with memorabilia and stuff from the various animated films. They had a killer lunch there as well, with a chicken curry I adored. All three restaurants have a signature "flight" of sorts for alcoholic beverages, and I liked the one in World of Marvel as it included a rum, gin and vodka drink. The menus are not the recycled sequence from the other ships, and that change is welcome.
As I said, Luna is the versatile space, kind of a better version of the D-Lounge, in part because of built-in bar service and better seating. We watched some shows there, including a magic show. The Walt Disney Theater might be the best looking of the fleet, though we decided to pass on the live shows as we heard they had some issues. Aladdin was cancelled entirely. Since it's our "home" ship, we'll see those shows eventually. The pool deck is tiered with six pools, all of which can be covered, and it makes for a better setup for the pirate deck party. Said party now features a fantastic live band that plays a lot of early Gen-X non-alt rock, as if to say, "We know who's really paying for these cruises." But the energy of a live band completely changes the show from a cheeseball third-rate practically lip-sync thing to an event with lots of talent, and they play the Pirates of The Caribbean theme live into the fireworks, which somehow makes it 10x better. I had planned to avoid it entirely, but we met up with some folks we had met previously, and fortunately watched it. Live music is everything.
The aquatics were spread out over a bunch of smaller pools, including an infinity pool aft in the Cove area, for adults only, that was always too full. There's a slide that adults and kids can do, though maybe because of the rash guard I was wearing, I could barely move down it (I think it needed more flow). The Aqua Mouse is the big ride, which they're calling their first "attraction at sea." It consists of a long conveyor up in a tunnel with video screens showing a sequence from a Mickey Mouse short, and sprayers hitting you now and then. Simon insists he understood the story, but I did not. Once you get to the top, it moves quickly through the forward funnel, then a series of water coaster launches and curves before returning to the station. It's over pretty fast, but it's more aggressive (in a good way) than the Aqua Duck on the other ships. Best of all, it ends where it starts, so there are no stairs to climb. Definitely has a higher capacity, too.
They brought the basketball court, table tennis and foosball inside, to a room they call the Hero Zone, and this was a very good decision. The space also has a big Incredibles-themed inflatable obstacle course setup on one day. The youth activity clubs are about the same as the other ships, with Vibe (14-18) on 12 and Edge (11-14) on 5. Simon spent a fair amount of time in Edge, where he discovered he really likes orange Fanta. He spent less time in Oceaneer's Club, in his last eligible year. Mostly he spent time with the life guards, because he did the Aqua Mouse literally about 50 times. We did not use the spa, which was heavily booked anyway.
We did get lucky and booked a mixology class, but everything else was booked almost instantly when the window opened. We met a charming family from Nebraska, and had the opportunity to chat with them a few times. Good conversation with random folks in bars, and with bartenders. Our servers were amazing. The desserts were great.
Overall, we had a fantastic time. We even got to see a SpaceX launch on our first night, after sundown, and we could even see the reentry. I heard a lot of complaining about the laminated signs, the operational quirks, the not-ready scavenger hunt game, etc., but there were a lot of entitled people on this cruise, all "experts" because they've been on 20+ voyages. Whatever suboptimal things we encountered, we politely shared the feedback and moved on. I felt generally well taken care of, as usual. They gave us a bunch of free stuff, too. including a commemorative coin, a hard-bound "making of" book (my favorite), maiden voyage totes, a combination bluetooth speaker and mug, fancy chocolates, maiden voyage lanyards and other stuff I'm forgetting. That's in addition to the T-shirts we ordered in advance, the Christmas ornament and the wooden ship for display (we have all five!). In one of the bars, we commented about how cool the stitched faux-leather Wish coasters were, and the bartender just sent us out with a stack of them. If that weren't enough, Diana participated in a fish extender gift exchange, and people gave generously. (A "fish extender" is a series of pouches you make and decorate and hang next to your door. The thing you hung it on, on the original ships, was a fish, so the name has stuck.)
While the Dream moves on to do Europe part of the year and depart from South Florida in the winter, we're certainly happy to have this shiny new, LNG-powered ship call Port Canaveral home. It will take on the Dream's 3 and 4-night Bahamas schedule, so there will certainly be long-weekend trips in our future.