See also: Part 1 Part 2 Part 3
Just over two years ago now, I bought a Nokia Lumia 920, which at the time arguably had one of the best cameras in a phone ever. No one else in the world likes Windows Phone (unless they're developers like me), but this was the phone I wanted for two years. It has optical image stabilization, and like all Windows Phones at the time, a dedicated camera button that does a half-press focus, like "real" cameras.
I've had a lot of photos I'm fond of from that phone, but this one stands out. It was around Thanksgiving 2013. My best friend Kara came up with this wonderful "parking lot" for Simon's cars, made on a set of board game boards. (This is why I love it when she babysits for us.) We were at the same level, and again, the foreground seemed to draw me to Simon.
This isn't a hard photo to compose, you just need a really wide lens. It's important to me because the Space Shuttle was something I was obsessed with growing up. Seeing Atlantis at KSC was a life-changing experience for me. If it makes me a dork that I want to go back and just stare at it for an hour, so be it.
I'm not sure where the idea for this came up, but it ended up being the photo we used on our "we moved" cards that we sent people. We didn't do this because we wanted attention for buying a house or whatever. We're pretty realistic that there isn't anything particularly special about it. But closing on the house meant that we finally had a place that could be uniquely ours, something Diana and I haven't yet had. I put the timer on the camera, and after six tries, we managed to get one with all of us up in the air.
I'm not sure I can really take credit for this one. Diana spotted this reflection of the chandelier in the atrium of the Disney Dream cruise ship, from deck 4 looking down. This was also with the S95.
Last summer, Team Puzzoni and BFF Kara went up to the zoo in Sanford. I guess the best way to describe it is that it's very Florida. In any case, for a few bucks you can feed the giraffes. Kara likes these critters (because they're tall, too?), so she split some of the food with Simon. In this case, the pure and intense joy that she felt was so obvious in the pictures. You can't fake something like that. I think the giraffe enjoyed the encounter as well.
Fireworks are a little tricky to shoot if you haven't tried before. And then if you have, so much time passes in between that you forget what you did last time. You have to stop down the lens to preserve the color, and find the right shutter speed to get enough streaks but not too much. On July 4, I took the tripod out on the roof of my garage and pointed the camera at Magic Kingdom. I rattled off about 30 shots, and this is the only one I was satisfied with, which is coincidentally the finale.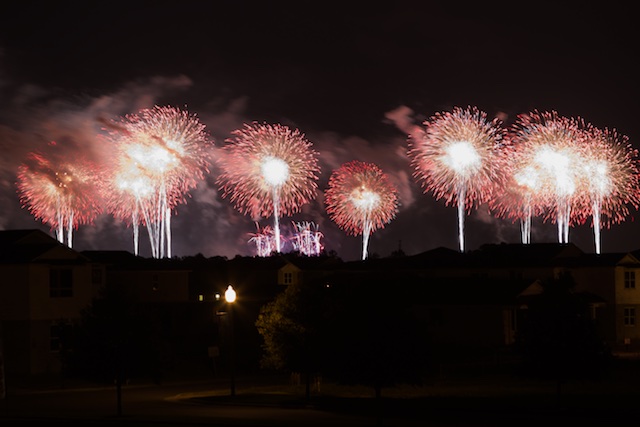 This photo isn't great to anyone but me. I'm not a fan of selfies. This one is out of focus and my finger got in the way of the flash. But still, this is us at the Rose & Crown at Epcot, after a day of Segway'ing out at Canaveral, and consuming beverages. It was a fantastic overnight trip, just us. The photo isn't great, but it is with my darling wife, and what's not to love about how cute she is?
I'm sure there are other photos, but there are a lot to review. I have years and years of stuff on negatives that I'd love to review, and I will eventually send those to a company to mass-scan them.