Our cruise ended in Copenhagen. For as long as we've had it planned, we've been referencing the scene in Pitch Perfect 2 where Brittany Snow's character talks about traveling to "the very sunny, very beautiful, Copenhagen!" It wasn't very sunny, but it was very beautiful, and I immediately fell in love with the city. It literally started with the customs agent, who had a big Jessica Rabbit tattoo and was into biker culture. She was very kind to Simon, and already promoting the country as the home of Lego.
Copenhagen wants you to enjoy yourself as a tourist, and make everything stupid easy, so they offer the Copenhagen Card. It allows you to use all of the public transportation and entry into most of the attractions in town. They were $67 each for adults, and $37 for Simon. The first $23 each was going to be for just getting into Tivoli Gardens, weather permitting, and we didn't have to commit to that specific attraction in advance. Bus and train fares got pretty close to rounding out the total cost. Had we gone to another attraction we would have been doing "free" stuff. Regardless, I think it's worth it just for the convenience of having one thing.
After a lot of research about hotels, a friend suggested that we stay at one of the airport hotels. I can't even explain how good of an idea that was, especially in a city with such a great metro system. I leaned on Google Maps to tell us how to get there. We started on a bus that went a few minutes to the end of one of the metro lines, in an area with a ton of new construction and development. You change trains once, and we were at the airport in just under 40 minutes from the time we got through customs. We were the only people on the bus, and there were only a few people that far out on the train. I can't for the life of me understand why so many people were waiting for hundreds of private cars and taxis at the port, when the transit was so good. The vehicles are very clean, the stations are large and bright, and our bus was actually electric.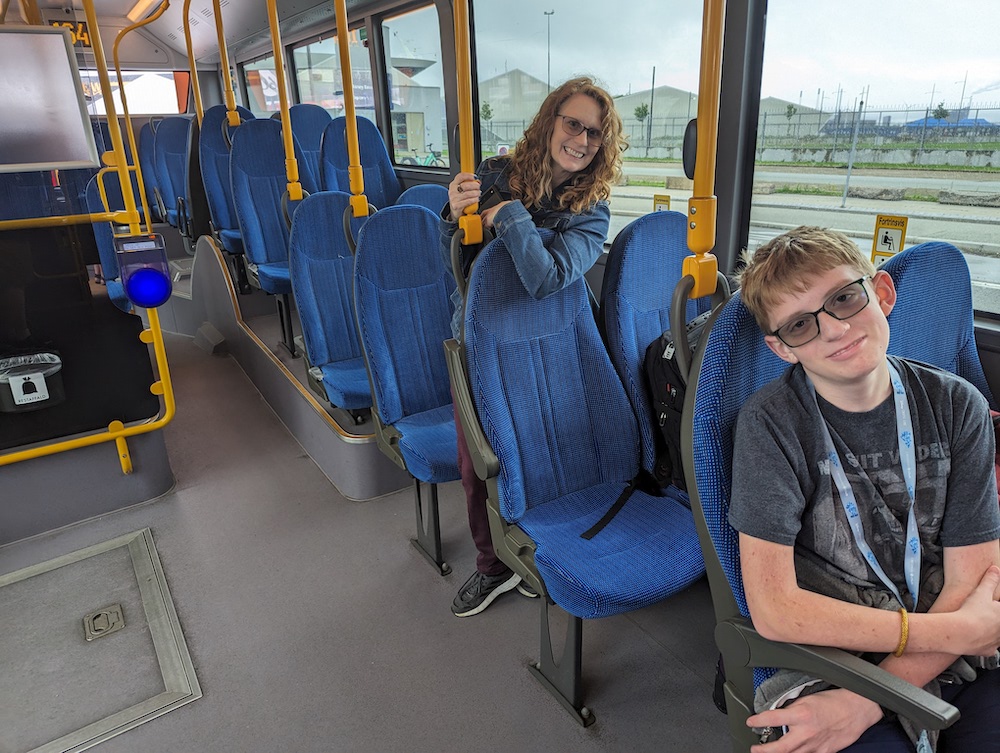 I'm sure that's a cultural thing to some extent, as the mostly American passengers are used to the shitty excuse for transit we have. But the other cultural thing that I found interesting is how much using the transit system in Copenhagen is a system of trust. They have terminals in the train stations and in the buses to tap a card on and off, but there aren't gates or anything. Bus drivers might ask you for proof, but they're not really policing it. On the trains, they have people who randomly wander them and check tickets, but we only encountered that once on three fairly long rides. You don't even tap the Copenhagen card, so no one even knows you're on the train unless one of the checkers ask to scan.
The Clarion at the airport is steps away from the train station, which makes it all the more convenient. It's a little pricey, even more so because we paid extra to check-in early (this is a thing all over Europe, apparently, which is a little gross if the room is ready anyway). The room was fairly large, and like our room in London, had very Scandinavian design sensibilities. The weird thing was the enormous bathroom, which included a very long bathtub. When searching for a hotel, the biggest expense problem was just getting a room with two beds. We had the same problem in London, and in both cases, "second bed" means fold-out sofa bed, which I suspect isn't super comfortable. Almost no place in Copenhagen proper that I looked at even had two-bed rooms available. Surely Europeans travel with family, right?
We dropped our bags by 10:30 and then headed back down to the train. Google had us get off the train and take the bus the last few blocks to Tivoli, but as we discovered on the way back, it would have been easier to just transfer from the M2 line to M3, getting off at the Rådhuspladsen Square station, which is closer to the park's entrance anyway. I had scoped out months ago that there was a McDonald's just down from the park, which was a lifesaver for finding food for Simon. Food inflexibility is one of our biggest challenges with him, but he recently started eating hamburgers. They have to be from McDonald's or Red Robin (or DCL), but it's progress.
Tivoli Gardens is celebrating 180 years. I first learned of its existence very early in my roller coaster and theme park enthusiasm. It has regularly won praise for its appearance and beauty. The reason is obvious before you even get inside the gate. The park very much has a city park feel, with rich gardens in every direction, an eclectic mix of architecture, a big stage venue in the middle, and as you might guess, amusement rides scattered about. It has classic "carnival lighting" all over, but unfortunately we wouldn't be there late enough to see it, especially during these long summer days. Once inside, we ducked into the adjacent food court, where I had some fantastic Indian food, and Diana had a massive chicken sandwich.
After our lunch, the rain was being kind of vaguely persistent and annoying, but it was just warm enough, low 60's, that it was not uncomfortable. We bought ride wrist bands just for me and Simon, because Diana didn't want to potentially irritate her back issues. We started with Rutsjebanen ("Roller Coaster"), which is I believe the second oldest operating coaster in the world, built in 1914. The big deal here is that there are no up-stop wheels, and a live human sits on the train and brakes it manually. I'm not gonna lie, I found this a little disconcerting, especially in the rain. The operator has to really lean into it, foot braced on the car in front of him, and it did not appear he has any restraint of his own. There is no reach envelope on the ride, you could in theory touch anything around you. I love it in part because there's no way something like this would ever be able to operate in the US, and yet, I'm not aware of any particular injuries involved with it. I'm also happy that Simon had no issue riding it.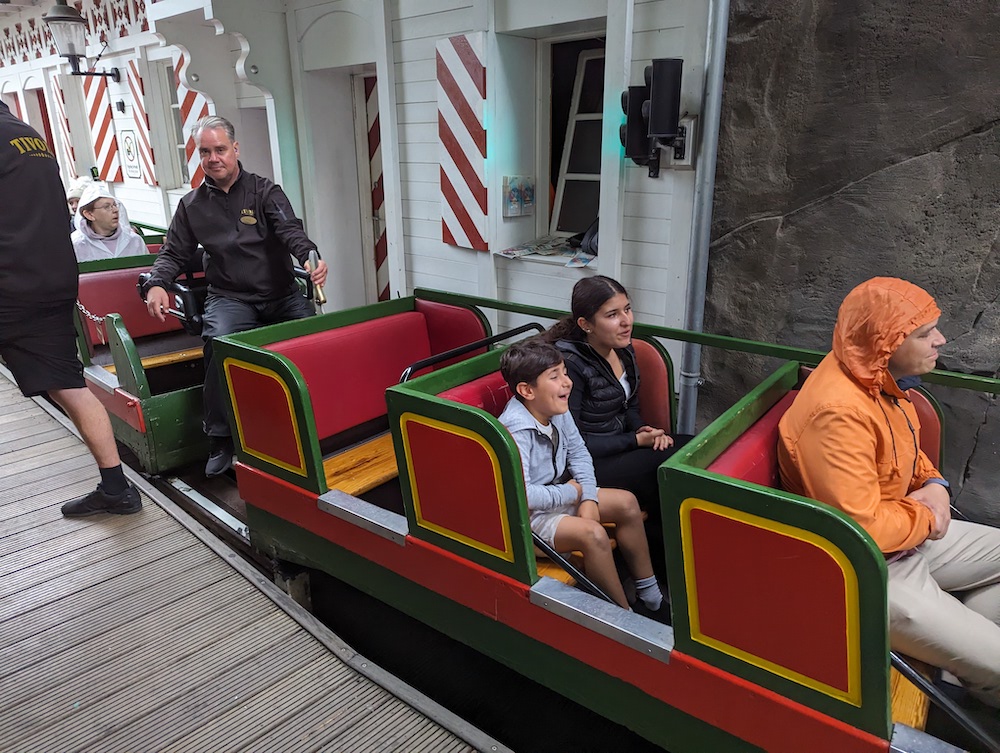 Our next ride was a beautiful Wave Swinger right in the middle of the park. I haven't been on one of these in years. They ran it for a pretty long cycle, and it seemed to operate at a robust speed. This is still one of my favorite flat rides. We also did a circular pirate-themed ride, Galley Express, similar to a Musik Express, only a little slower with repeating hills. There are a lot of circular flat rides back in that corner of the park. Next we did the powered coaster, Maelkevejen, which is a Mack ride that's built above all kinds of other things. It's an interesting ride, and has a pretty great helix on it.
As the rain backed off a little, we wandered over to Daemonen ("Demon"), the smallest B&M roller coaster I've ever seen. They were only running one train on this floorless looper, so the line was pretty long. Simon bailed, wouldn't even try it, unfortunately. His wrist band was pretty loose, so we cheated and shimmied it off so Diana could ride with me. It took about an hour, but during that time, the sun came out, and it was a very comfortable ride. Despite the size, I think the intensity was just right, totally dialed in. There aren't very many B&M's that I haven't liked (Iron Wolf is mostly the only one, though poor Kumba is not aging well). Short as it is, it packs a lot into a small space.
Simon next went to what I think is a modified Huss Condor, with two of the four wheels having outward facing seats. I was content to let him do this one on his own, I guess because I was tired. He also did the neighboring Monsoon, which looks like a weird inverted magic carpet. They also have what I think is a kiddie Moser tower that bounces up and down. I was willing to do the S&S tower next to it, but he wouldn't bite. Surprisingly, he didn't weasel his way on to the kiddie coaster in this area.
We walked around the remainder of the northeast side of the park, and found more of the restaurants. I would have loved to have sat down in one of these, but again, the eating proposition was not ideal with the picky eater in tow. After sitting for an hour or so while Simon repeated some rides, we started to head out around 6. We stopped and ordered a couple of thin pizzas in the food court, then around the corner to McDonald's for Simon's dinner. I was definitely feeling it by then, and all of the time zone changing and cold and sometimes early excursions were catching up. Probably should have taken it easier during the at-sea day the day before, but we had another mixology class and a last hurrah with folks that we met over the previous ten days. We could have easily spent a few more days in this city alone.
Our ride back to the hotel was super easy, and after the bulk of any kind of rush hour situation. As I mentioned, we took the metro from the station there in the square, with a single transfer back to the airport. The hotel unfortunately didn't really have any great food options late, just a bar, so that was kind of a bummer because their breakfast the next morning was pretty robust. Our new teenager is pretty much hungry at all times. And honestly, I was used to eating as sport, as one does on a cruise.
One final note, the Copenhagen airport the next morning was another example of a better way to do everything. Security involved first scanning your own ticket, then the security gate was a queue with a screen at the end that either said "stop" or go to a specific lane. No taking off shoes, and the x-ray trays were returned on rollers under the line. It emptied into the most beautiful duty-free store I've ever seen. We had a short flight to Frankfurt, which was kind of shitty because we had to walk literally almost a mile to the next gate, which involved a manual interaction with German customs and another security screening. There was no good food in between, and the stuff on the plane (Lufthansa's Eurowings brand) was borderline dog shit. The flight attendants seemed surprised that we didn't speak German, which is odd flying to Orlando. For whatever reason, we were in "premium economy," which had extra room and all the food and beverage was included. It was cool to finally see Terminal C at MCO, but bags took almost an hour, and then another 45 minutes waiting in a customs line because there was no one staffing the MPC (mobile app) line that would amount to a quick QR code scan to return. Welcome home, indeed.