Once we got off the plane at London Heathrow, we had been awake for about 25 hours or so. The only other time I've dealt with time changes like this is traveling to Hawaii a couple of times. Our bodies were confused. And all of the exit signs are funny guys running from an arrow, which to us is like a cruise ship. Our bags were out fairly quickly, maybe waiting 15 minutes. Going through customs is awesome. You navigate a constantly moving queue, then walk up to a machine, put your passport face down, and look at a camera. It opens its gate and you're in. It's fast and efficient, and the opposite of the way the US does it.
Next task was to get some tickets for the tube. If you're by yourself, you just tap your credit card at both ends, but it's a little more complicated for us with a kid. Unfortunately the kiosk kept rejecting my credit card, which surprised me because I had booked our hotel on the same card. Diana called Capital One (Google Fi is a great carrier to travel with), who said it wasn't them rejecting the card. We tried hers, and finally got the tickets. We don't typically use our Capital One card, but it's the one with no fees for international transactions.
The Elizabeth Line appears to be the newest of the subway lines, and crosses London west to east from the airport. The trains are very new, and the stations are all very modern. We transferred to the North Line (going south) toward Waterloo Station. The change wasn't straight forward because the platforms weren't well marked in terms of direction, and my lack of sleep, food and frustration was high in a way where I was certainly taking it out on Simon. But shortly thereafter, we emerged in Waterloo, which is itself something of an attraction, especially to Simon, who is fascinated by trains.
Our hotel, the Park Plaza County Hall, is next to Waterloo Station, where we intended to take the train to Southampton the next morning. With the rail strike, and given the South Western Railway's reputation, the aggregate advice seemed to be to book a private car if we wanted to get to the port in a reasonable time. This was a bummer, because Simon badly wanted to take the train, and frankly the car was going to cost four times as much. As something of a consolation, our room was on the 12th floor, overlooking the station.
Since we arrived at the hotel around noon, the room wasn't ready, obviously, but they were happy to hold on to our bags. Since we were next to the London Eye, it seemed like an obvious choice for something touristy to do. I'm not sure if it was worth fifty bucks a person, but given the crazy fatigue, it was something to do that didn't involve a lot of thought. I definitely enjoyed it, and it was kind of surreal to see up close a place that I "know" from countless movies and photos, but to that point had never been. It's so much to take in at once, the old and the new, the seat of government, the palace... all of it.
After our ride, I grabbed some food from some noodle joint, and we headed back to the hotel. The notification that I was supposed to get when the room was ready never came, so Diana finally asked, and we were in at around 2:30. Diana went with Simon back into Waterloo for McDonald's, something we know that he'll eat. I took a shower, and passed out shortly thereafter.
We were all up and moving around a little by 5, and I was again pretty hungry. We initially thought we would just walk up to a restaurant for dinner, but Simon wasn't having it. Still tired, I suggested we just eat in the hotel restaurant, where we knew we could be served immediately. This initially felt defeatist, but it turned out to be a really excellent choice. Turned out the food was pretty great. We both had a Magner's, which comes in an enormous bottle, and they serve it over ice, which is super weird for a part of the world that I thought was ice-averse. I had chicken satay that was impossibly good, and a bucket of fries with some unusual but delicious ketchup. Diana had something involving guac that she liked. I can't remember if Simon had anything, but maybe it was leftover snacks and/or airplane food. By this time it was clear to me that no one really used cash, at all. Restaurants even bring tap terminals to the table to hit your credit card. This was consistent in every city we visited. It's something reinforced in my first 36 hours back in the US, where I encountered people dicking around in the grocery store with cash, slowing everything down.
With a second wind, clearing skies and really pleasant temperatures, we decided to get out for a bit. We had no specific plan at all. On the south side of the actual County Hall complex, where the government of London used to reside, there's a Marriott hotel with a stunningly beautiful entrance. I knew it was there, but it was out of my price range. We crossed Westminster Bridge then crossed the street for a closer look at Westminster Palace and the Abbey. Again, it was so strange seeing these familiar landmarks just for the first time. As we walked south between the two buildings, I wanted to get around to see the church from the front. We just kept walking until we could turn right, at which point, we were basically alone. Not a tourist in sight.
I don't know that Great College St. has any significance, I was just impressed by its random direction, and many different ages for the buildings that lined it. When your big city experience is mostly things like Manhattan or Chicago, essentially well planned grids of streets, it's so interesting when the roads appear to have no plan at all, and some buildings are hundreds of years old. It is infinitely more interesting than most anything you'll find in North America.
We eventually made our way back around to the front of Westminster Abbey, and while I'm not even a little religious, I would have really liked to have seen the inside. By 8:30 we started to make our way back toward the hotel. As it turns out, none of the restaurants that we passed seemed to have any wait, though I don't know what it was like three hours earlier. I was feeling some amount of regret that we would not have much time in London, and that we were so tired. This is a city I must return to. It's not even a question.
We all rolled out of bed on Saturday morning around 7, and did our best to quickly wrangle our stuff back into the suitcases and bags. I should mention that the hotel room was fairly adequate, with a Scandinavian kind of minimalist vibe. I learned in searching for hotels here and in Copenhagen that rooms that sleep three or four people are hard to come by, or otherwise expensive. Usually the second bed is a fold-out. I don't entirely mind this, but it's another thing made more difficult when traveling as a family.
Our car service picked us up just before 8. It was driven by a fairly young guy in some kind of Mercedes van that isn't sold in the US, and was far more utilitarian than any Mercedes you'd buy in the US (aside from the cargo vans, obviously). I really enjoyed the drive out of town, tired as I was (think 4 a.m. Eastern). It's striking how people tend to live in smaller housing in more population dense places, and public transit is just everywhere. I knew this was how Europe would be, but it's more striking when you see it first hand. Even as we got deeper into the countryside, housing was more practical than what you'd find at home.
We arrived in Southampton just a hair before 10. It was so weird to roll up to the port and see the Disney Dream, a ship that spend the prior 12 years only sailing to the Bahamas, thousands of miles away from its former home port. We had sailed on this ship out of Canaveral 15 times prior, and it's the most familiar ship to us in the fleet. How strange to prepare to board it without knowing you'll stop at Castaway Cay.
The scene at the terminal was chaotic. The prior cruise had not yet finished disembarking, which seemed pretty strange. If the UK customs were anything like the airport, I'd expect them to be fast, but the uglier thing was just all of the people waiting for taxis, Ubers and whatever else after they got off. It was a little cool, in the high 50's, so it wasn't great when they kicked us out of the terminal to queue outside. They started taking bags, so we dropped those, and watched as the concierge, 11 and 11:15 folks queued. They loaded up an 11:30 line a little early, and we filed into that, and shortly thereafter entered the terminal again. Check-in is the same, people with iPads confirming you uploaded your docs, and then you go through security. They were kind of dicks about it, but unlike Canaveral, Disney has a lot less influence on operations. We got through, and then ended up waiting a bit.
We were boarding group 7, which by 11:45 is usually called, but maybe because of the late disembarkation, they were behind. Groups 1 and 2 were called, which are concierge and maybe others, but then they called the next few with very few people boarding. We would later understand that our fears of train service were true, and a lot of folks ended up getting to the terminal as late as 2, an uneasy margin given all-aboard is 3:45. It was about 12:30 when we finally boarded, and we went straight up to Cabanas for lunch.
Our friend Kairi, herself a crew alumnus of the Dream, missed us by about 75 minutes. I can't find a single blog post about her, which is super weird, but the short story is that she was a server for us on the Dream in Palo, the fancy restaurant, and then we connected with her again on our next cruise, and hosted her just before the pandemic. She was headed to South America to visit a friend there. She was born in Estonia, lived in the UK with her mom, then lived in Canada most of the pandemic. We checked in with her periodically via Zoom. She was back in the UK and wanted to see the ship, and us, but the timing didn't work out. We did shout to each other from the aft of the ship, and sent each other photos.
The cruise started in a fairly unremarkable way, really like any other on that ship. Simon checked in to the teen clubs, and we landed at Skyline, the martini bar. It has a twin on the Fantasy, which does the weekly Caribbean itineraries. I imagine that it's our favorite because they always serve top-shelf, larger beverages there. The mixology classes happen there as well. On the first night, we met Vlada, and his crew Cez and Natalia, and they would take very good care of us for the entire trip. It generally gets crowded before the 8:30 second seating dinner rush, but otherwise feels very exclusive. It's the thing that the Wish is sorely missing.
After a very slow roll across the English Channel, we landed in Cherbourg, France the next morning. In an ideal world, we would have booked shore excursions to Normandy or a castle or something, but everything involved being on a bus for three or more hours, and that was not appealing. On the plus side, the ship docks right on a peer that has a Titanic museum, an aquarium and a retired nuclear submarine. Interestingly, Titanic did not actually dock in Cherbourg, and instead it used tender ships to onboard more passengers and some amount of supplies. I was most excited about the sub.
We started the day eating breakfast onboard, and it was the first time we noticed that food was obviously being sourced from different places. I had some scrambled eggs that tasted weird, and some fried hashbrowns that also tasted weird. After breakfast I took a shower, and when I was done, I flopped down on the bed because I didn't feel right. I assumed it was nothing, and we went down to the pier and bought tickets to the attractions.
I had been in the Titanic exhibit for maybe 15 minutes before I felt like I was going to hurl. Alarmed, I went back outside to the courtyard between the various venues, and just sat down. I wasn't feeling better. Diana and Simon came out, and I told them I didn't think it was a good idea for me to continue, in case it was something serious. The photo below is the only one I took in France. That's the aquarium building.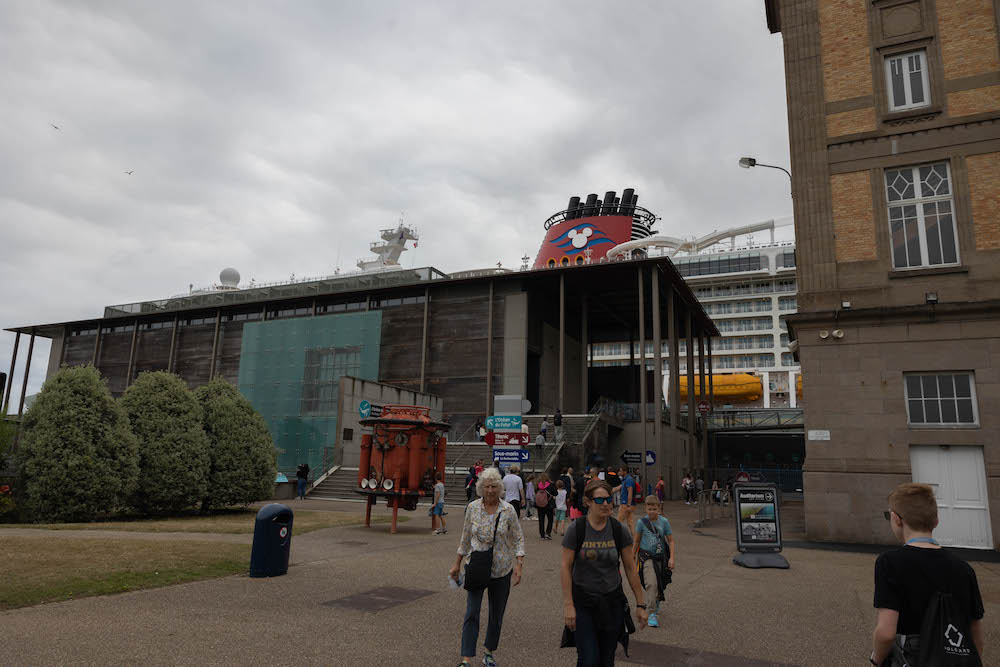 Diana and Simon continued and did all of the things, and I went back up to our room. I did my best to lay down in a way that didn't make me feel more sick to my stomach, and slept a little. By 5 I was feeling a little better, no barfing, but was kind of angry about missing the sub tour. It wasn't the cost (like €18 each or something), it was the fact that I'm fascinated by submarines.
So France was a bust for me, but the best things to see there are probably best seen by car over a few days. Perhaps next time.