OK, I definitely need to commit some of this fantastic trip to a blog post. I'm going to split it into two parts, the first part being about the time on the ship, including the voyage up Endicott Arm, and the second part about the time spent in Skagway, Juneau and Ketchikan. There's a lot to cover!
The Disney Wonder has a summer routine of departing for Alaska on 7-day trips out of Vancouver. As Disney Cruise Line enthusiasts (to say the least), it was long overdue for us to break out of our Bahamas routine, normally convenient because we can board an hour from home, and Alaska was too amazing of an opportunity to pass up. Originally, we figured we would fly into Vancouver, spend a day exploring the city, then board the ship, but flights were at least $180+ more per person, and there wasn't a lot of flexibility in flight itineraries. Then, on our February cruise with my brother-in-law's family, they booked the same cruise and asked to join us. That meant that we could fly to Seattle instead, save a little money on flights, spend time with them, and drive up the three hours to Vancouver together. As much as I wanted to see Vancouver, I think this was a better thing all around.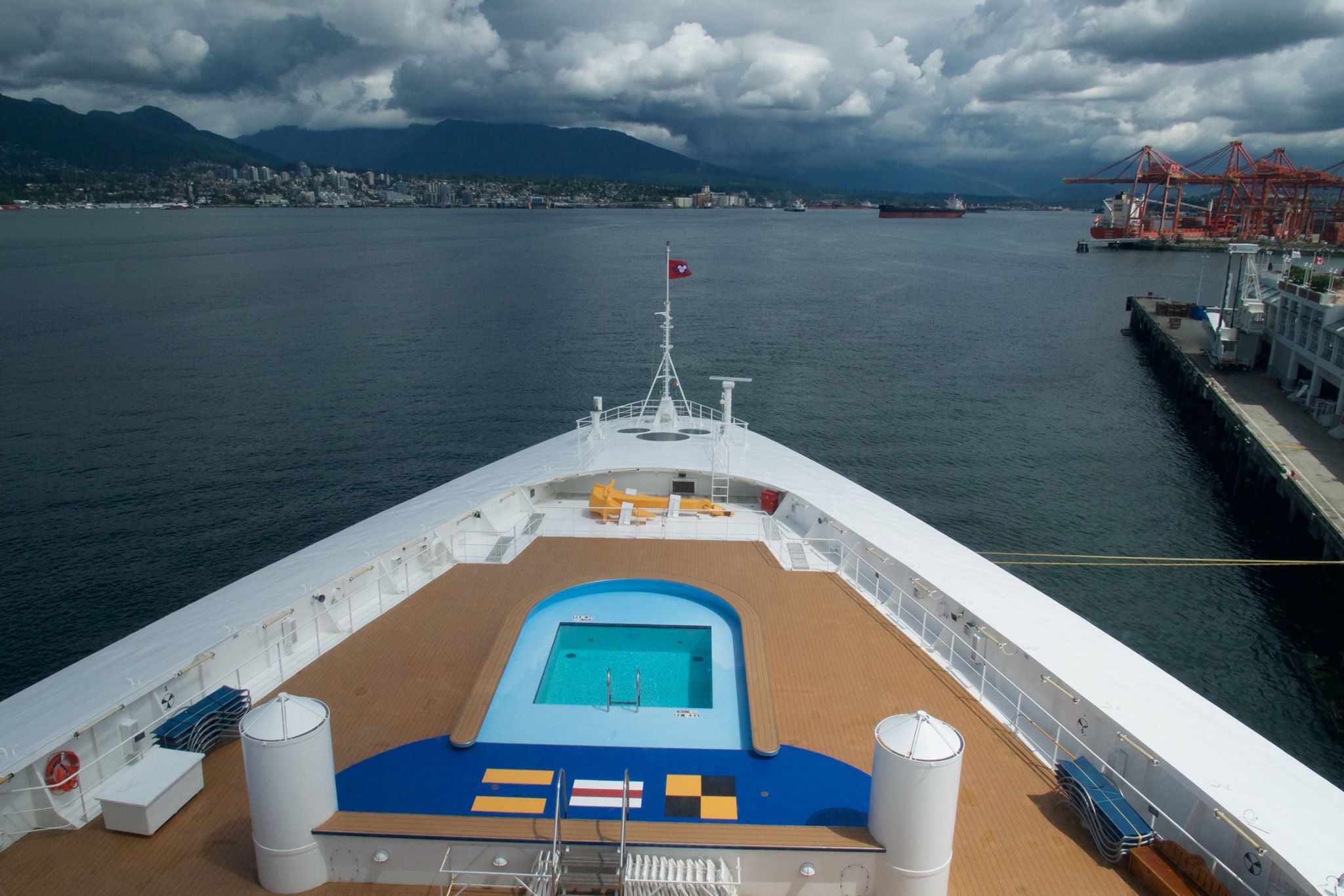 The view from deck 10 before leaving Vancouver
The drive from Snoqualmie, an east side suburb of Seattle, was pretty easy. The last few miles into Vancouver were a little slow, but it wasn't bad. Drives in the Pacific Northwest are lovely even when the weather is suboptimal, as it was that day. The ship docks at Canada Place, which, if you watched the Olympics in 2010, is the building they were always showing on the waterfront with the tent-like structures on top of the building. It's a different experience than Canaveral since they don't have an exclusive lease on the building, but it's still relatively efficient. The weird thing is going through US customs to board, though I suppose that makes more sense than doing so in Skagway.
The lobby of the Disney Wonder
I had some minor anxiety about the Wonder, because it's the second oldest ship in the fleet (1999), and it hasn't had the significant drydock overhaul that the Magic had about a year and a half ago. The Magic is a year older, but they stripped it down to the steel, and in many places started over. I hadn't been on it before, but we were on the second cruise out after that drydock, and it was amazing. The Wonder ended up being about what I expected. Like Disney World itself, it feels like it opened yesterday unless you look harder. The constant upkeep means the ship is in generally good condition, but there are places that are tired. So while the soft goods in the staterooms are all new, the dressers and such are a bit beat up. Ditto for certain interior areas, especially restrooms. While certainly very clean, it's not hard to find peeling wallpaper, chipped tiles and the like. The Animator's Palette restaurant has an old show that includes some very dated video screens. The grand drydock is coming in September, and everyone on the ship was buzzing about it. Regardless, there was no doubt you were on a high-end, Disney ship.
The pools were mostly open during the day, particularly the adult pool. The water was like bath water, so even on chilly days, especially the one in Endicott Arm, you could enjoy the water comfortably, unless you got out. I spent a little time in one of the adult hot tubs, but really should have done more. The exterior decks were really busy on the days at sea, because being on the inner passages made for plenty of beautiful scenery. As much as I figured that a verandah room wouldn't be worth it, now I'm rethinking that. The extra cost was significant, but maybe it would have been worth it.
Our stateroom was on deck 6, forward and starboard. We learned on the Magic (the ship's twin) that being aft meant a lot of engine noise, so we deliberately went forward. Originally, we booked an interior room, but knowing how we often retreat for a break, I was uncomfortable with the idea of a not having a window. As it turns out, we could get a very specific room rated as a "deluxe interior" room but with a window, partially blocked by the window cleaning apparatus. This turned out to be fantastic, and without spending a lot extra. Plus, we were always close to the theaters, the adult pool, the lobby and the bars. As with almost all of our cruises, we booked onboard previously, for 10% off the regular rates, plus an onboard credit, which in this case was $200 because of the length of the itinerary. Total savings was almost $800. Pro tip: Now they allow placeholder reservations for a flat $250. You'll get the discount and onboard credit without choosing a specific itinerary. We have two booked.
We learned in February on the Magic that the spas offer a lot of discounts if you'll book for the day of departure. That makes sense, because I don't imagine people are that anxious to spend an hour plus missing the departure party, dinner, entertainment and the like. So Diana and I booked hot stone massages. I unfortunately did miss a pretty dramatic sail under a low bridge in Vancouver, but it was worth it. This tiny, 4-10 Filipino woman managed to push the limits between pleasure and pain, and I felt amazing when it was done. The deal this time was I think 75 minutes for the price of 60, but I had an additional 20% off only because I asked if some genius designed the ship with the basketball court over the treatment rooms, since I heard a lot of banging around (this was the case).
The dinner food is about what we've come to expect, which is to say there are a lot of dishes that you wouldn't ordinarily get at a local restaurant. The presentation is fancy, and it's surprising how well they do given the sheer volume that they have to prepare. I'm not a foodie, so I may not be the best to judge. The first three nights were more or less the same menus we've seen on the Dream and Magic. It was the new things on the other nights that I found pleasing. I'm a picky eater, but they had a nice jerk chicken appetizer, surprisingly good turkey one night, and chicken schnitzel that was perfectly cooked. The desserts are all amazing, and while I had my share of variations on chocolate cake, I had Mickey bars every single night. That's seven of them. I don't know what to say, other than I love the dark chocolate that they use and the texture of the Mickey sprinkles. And hey, at WDW, that's $30 worth of ice cream novelties!
Breakfast and lunch were not nearly as robust as they are on the other ships, and I believe that has a lot to do with the fact that the Beach Blanket Buffet, in the upstairs aft position, is an old-school buffet line style layout. Compared to the newer Cabanas restaurants on the other ships, which feature long walk-up areas (no lines), there isn't enough room to serve much variety. This was pretty disappointing, but they will be converting the space in drydock. The quality was OK, it's just that it was mostly the same things every day. We didn't try Parrot Cay, the one downstairs restaurant that they lit up for a lunch buffet, but our servers indicated it was the same stuff. While disappointing, there was a day when they finally had the spinach orzo that I've had on the other ships, and it's fantastic. The taco bar that day was also surprisingly good.
The counter service and room service were what we've come to expect, which is the usual variety of pizza, burgers, chicken tenders and the like, plus the soft serve ice cream. For the most generic of American convenience foods, the quality is solid. The cool thing they had that we haven't seen before is soft pretzels, salted or cinnamon. We took advantage of in-room breakfast just once this time, because we ended up being up and about early enough (read: Eastern time) so it wasn't necessary.
I didn't drink a lot this trip. I don't know that I was ever even buzzed, which is unusual for me and cruising. I attribute this to the lack of a beach day and what I think was a cold that started the night of the Endicott sailing. I didn't really feel like myself until midday in Ketchikan, our last port (day 6). I had some fruity drinks, sure, but not many. One silly thing I like is that you can get the UK version of Strongbow aboard the DCL ships, which is not the overly-sweet stuff they switched to in the US.
Entertainment on a 7-night includes the expected three stage shows, as well as some filler magicians and comedians. We only did the stage shows, and the night that they were showing Finding Dory. On one hand, we were happy to see some refinements in The Golden Mickeys, the show that I think is playing on every ship. The main character, a "stage manager" forced to host an awards show (don't get Diana started on the silly stereotypes), gets more time on stage singing now, and they've added a lot of new projection effects and dancing. Those revue-style shows can be pretty "meh," but the improvements help. Toy Story: The Musical, exclusive to the Wonder, felt generic and uninspired, with forgettable songs. I was disappointed. It's a slow-moving puppet show in some ways, without any big song and dance numbers. Dreams, which we've seen on other ships, was just OK. All three shows suffer from the same problem: The chorus is tracked and the choreography isn't that interesting. I think there are four or five actors at best that really get to show their talents, and that's unfortunate. It's entertaining, but knowing what the company is capable of, I know they can do better.
We also saw part of The BFG, but Simon got bored with it and we bailed. We ended up watching Finding Dory a second time, because it really was a great follow up, a decade later. The other movies we had either seen or weren't that interested in.
Diana and Simon playing foosball
As for other activities, we did a lot of trivia sessions, but didn't win any of them. Diana and I were late and missed the theme park trivia, which we would have likely cleaned up in. Joe and I did a tour about the design of the ship, which in many ways was similar to the offering on the Dream done in one of the bars with a slide deck. Of course Simon had to play foosball, so that was a win. Character meets were frequent, and although we didn't go to any on purpose, we met Daisy in the Castaway Club gold/platinum reception, and Ariel was very generous with her time when Simon ran into her in the hall. Oh, and that reception was awesome, with free drinks and officers chatting about. We made paper ships one afternoon.
Our first full day was at sea, following various inner passages between Vancouver and the US border. It reminded me a little of driving through various parts of I-5 between Seattle and Portland, only on water with a giant cruise ship. There were waterfalls all over the place, and these beautiful valleys. While the channels were not wide, the depth of the water was a staggering 150m or more, as you could simply draw a line from the mountain sides into the water. There were whales to see, but I was never on deck at the right time to see them. Kind of kicking myself for that. Double kick because the last day was at sea through many of the same routes.
The glacier in Endicott Arm
The second day was scheduled to go up Tracy Arm, a fjord south of Juneau with massive glaciers at the end. However, because of the massive chunks of ice in the fjord, the captain, along with a "pilot" that joined us onboard from the state, made the decision that it wouldn't be safe, and we instead went up the adjacent Endicott Arm. This was a gradual sail inland, with impossibly high mountains on both sides. Each valley off the sides was covered in waterfalls in a way that reminded me of the helicopter ride over Kauai's ancient volcano site. The difference was the snow at the top. There were more and more chunks of ice as we got closer to the glacier at the end. Finally, as we made a final turn, there it was, in all of its blue glory. A smaller ship was already there, with people boarding inflatable rafts to get a closer look. I imagine that we were at least a mile and a half away, and it still looked enormous. They rotated the ship you could see it from all over, and it felt almost like the ship was wedged between the sides of the fjord. It was cold, but there was some kind of spiked hot chocolate I had in a souvenir cup that was delicious, and I hate hot drinks. The kids spent time playing shuffleboard with some kids from Hawaii, which was neat because we were in Alaska.
This experience was, like much of the trip, an amazing contrast between the vastness of nature and the smallness of its inhabitants. Even the ship, a gigantic, modern marvel of engineering with thousands of people on it, seemed small in this context. If ever you need perspective about life, this is the kind of experience that gives it. Alaska is every bit as beautiful as Hawaii, only in different ways.
In part 2, I'll talk about the specific places that we visited in each of the three ports.