The news from Cleveland is that a female body washed ashore today, and unless it's just coincidence, it's probably Emma's. Her disappearance from a Lake Erie boat has been on my mind since my former assistant coach, Liz, messaged me via Facebook. As obvious as the logical outcome of this sort of thing is, I wanted to believe and hope that it would end differently.
When Emma played for me, she was only a sophomore. While the pool of kids to pick from was not strong to begin with, I wasn't crazy about pulling up a sophomore to varsity, but not having her up there would've been holding her back. Even though she was one of those many kids I've coached over the years going through an obvious awkward phase, taller than average with strange proportions, she could beat the crap out of the ball.
She was such a goof, too, and made us laugh constantly. She did buckle down and get "serious" when she had to (most of the time), but it was neat how being the "baby" of the team also kept me and the older kids from taking ourselves too seriously all of the time.
We also worried about her constantly, because her dad was so hard on her. We actually had to start doing closed practices just to keep him out so she could focus. The pressure was pretty intense, and I could only imagine to what extent. God knows he suggested to the athletic director at the time that I needed to do more yelling.
I didn't have much contact with Emma after that season (Facebook for grown-ups didn't come around until a few years later). It seems she transferred to another school with just a few months left in her senior year, according to one of the papers, to live with her mom, whom I never met. She didn't go to college, but worked at a gym and was a "ring girl" for some kind of cage fighting. Before her Facebook profile came down, it looked like she was like anyone else that age, going to parties and doing the silly things one does in that time of their life. I just can't wrap my head around it ending like this.
Like so many of the kids that I've had the privilege to coach, I'm glad I got to know Emma, if only for a period of six months. Just as you hope to leave a lasting impression with every kid, every kid leaves an impression on you as well. I'm thankful for that.
Here are a few photos of Emma from 2005...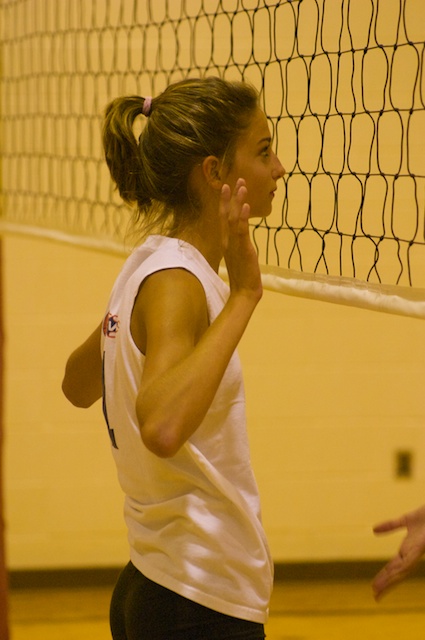 Here's one that someone uploaded to Facebook, apparently taken in December...