It feels like I just did this, but between the pandemic and middle age, time doesn't make any kind of sense anymore. The bottom line though, is that we're parents to a teenager. It's awfully late in life to be here, but we didn't plan for it. And make no mistake, he didn't need to get to this age to actually start acting like a teenager! He's already noticing girls, and I'm so not ready for that.
Parenting a teen is probably challenging enough without the other challenges. We put him back into public schools, and while it's definitely harder for him (and us), he is at least being held accountable to learning. His social scene is not very robust, and that's heartbreaking, but he's very fortunate to have a number of adults in his life that look out for him. For me, I spend a lot of time feeling like the bad guy, because I just don't want to rescue him from every situation that he doesn't want to (or more often is too unmotivated to) confront. I recently feel like we're turning a corner on that, but it's hard for both of us. The things I'm usually requiring of him are not hard things, they're just basic self-care and chores.
The flip side is that we provide a lot of opportunities to do fun stuff, as one does when you live in Orange County, Florida. This next year will be a big test because we're going to do some international traveling (i.e., not North America or the tropics), where things will not always be easy or convenient. Well, except the parts on a cruise ship. Hopefully he will appreciate that he's been to all of the same countries that I've been to, all before high school.
I jokingly say to newer parents, "Just wait until they start having opinions." But the truth is, despite the teen snark, this kid has some funny moments, and he seems to like a lot of the same music that we do. He isn't to the point of appreciating the same movies, but he's still young. Absent this year were the desire for trick-or-treating and Santa rituals, which is simultaneously sad and a relief. And he will soon be taller than Diana, and if he happened to get the gene that only his uncle has on Diana's side, he may very well be taller than me. Those late nights of football-holding and bottle feeding don't seem so bad (though definitely glad the poop is long behind us).
We upgraded our Disney passes this year to include mini-golf and the water parks. For a hundred bucks, it was totally worth it. It's a perfect, short commitment activity for the summer, and fun to do with out-of-town friends.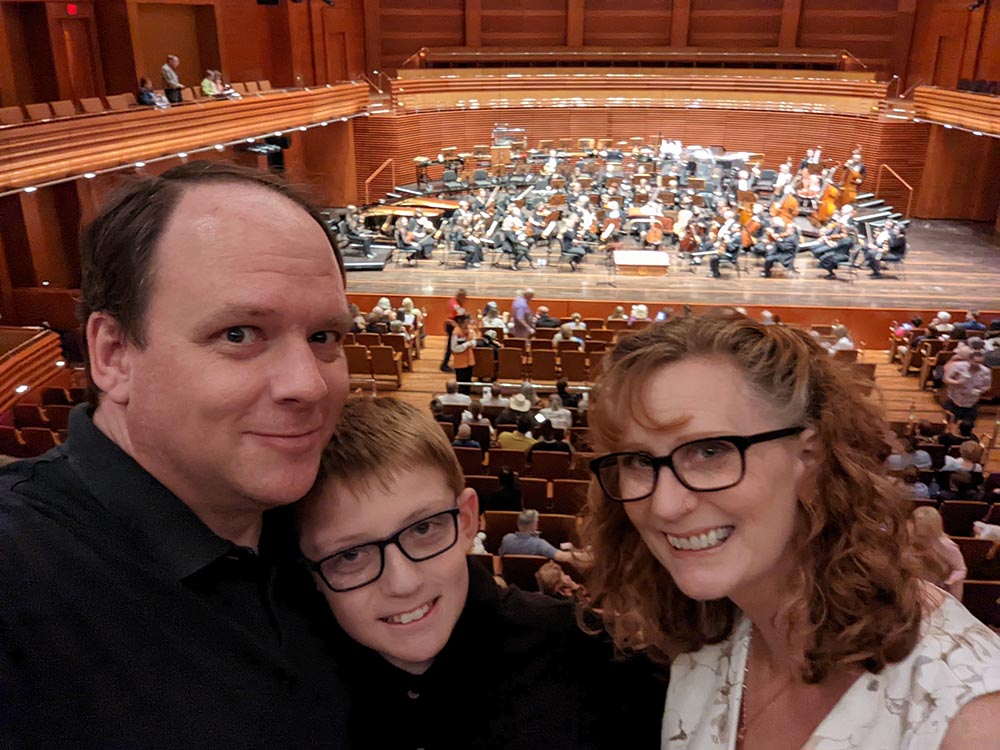 We had our first orchestra concert in the amazing Steinmetz Hall, with the epic Carmina Burana. We are so lucky to be able to do stuff like this.
The Guardians of The Galaxy roller coaster opened at Epcot, finally, and even though cheap-ass Disney stopped providing PhotoPass for free to passholders (they've since announced that they'll reverse that), I grabbed this from our first ride. Despite the expression, he has grown to love this ride, and it's certainly my favorite in all of WDW as well.
I used to build the K'nex roller coaster about once a year, then we kind of forgot about it. Simon remembered it, and I said, "You build it if you want to play with it." And so he did.
Our friends from Norway were here over the summer, and we took them to Kennedy Space Center to nerd-out on space stuff.
One of the highlights of the summer was the opportunity to sail on the inaugural sailing of the Disney Wish. Simon got to know the layout of the ship very quickly, and with a phone to keep in touch via the onboard chat, he's largely independent. He spent a lot of time riding the Aqua Mouse and getting to know the youth activities crew in Edge, the tween club. Here he is exercising concentration with his tongue as Ant-Man instructs him to push the button on the quantum core in the Marvel restaurant.
One way that we're very alike is our picky food habits. Because autism. But we had something of a breakthrough this year in that he'll eat hamburgers now. He'll tolerate pizza, but if I could just get him to chicken tenders, he could more or less eat anywhere!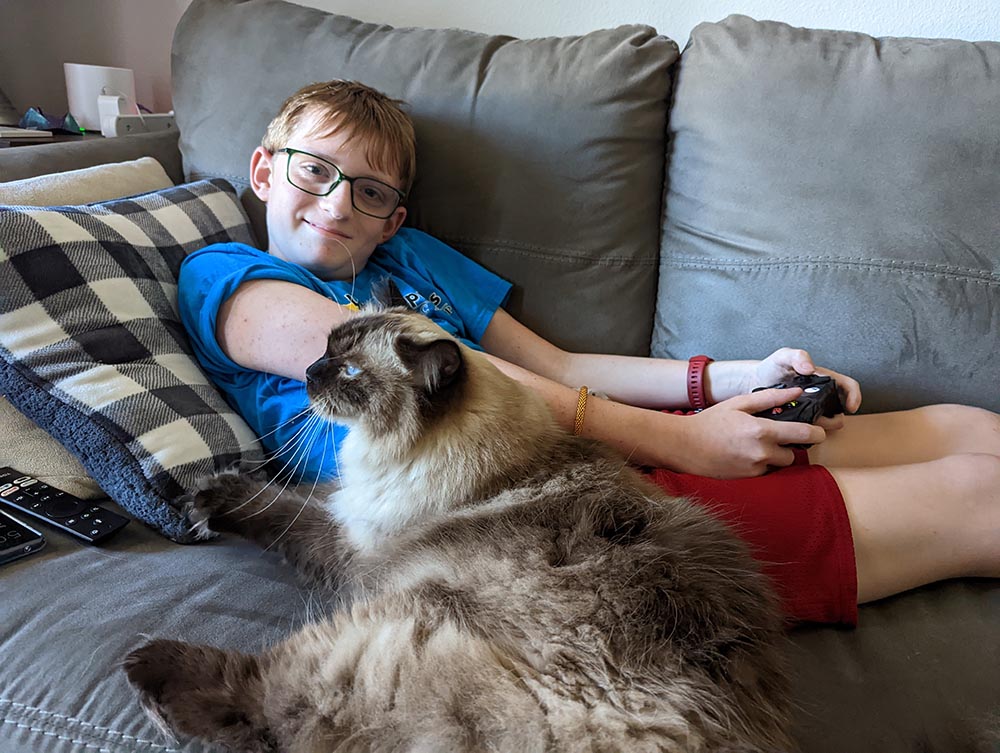 The cats generally don't like being manhandled all of the time and picked up, but for whatever reason, Finn is in-Finn-itely patient with him despite picking him up all of the time. In fact, he's the only one that he seems to consistently purr for.
We saw Hamilton a couple of times again, as one does when it comes to town. On this one, we saw it from the third row, which was a very different experience. As Simon pointed out, he could see Eliza crying.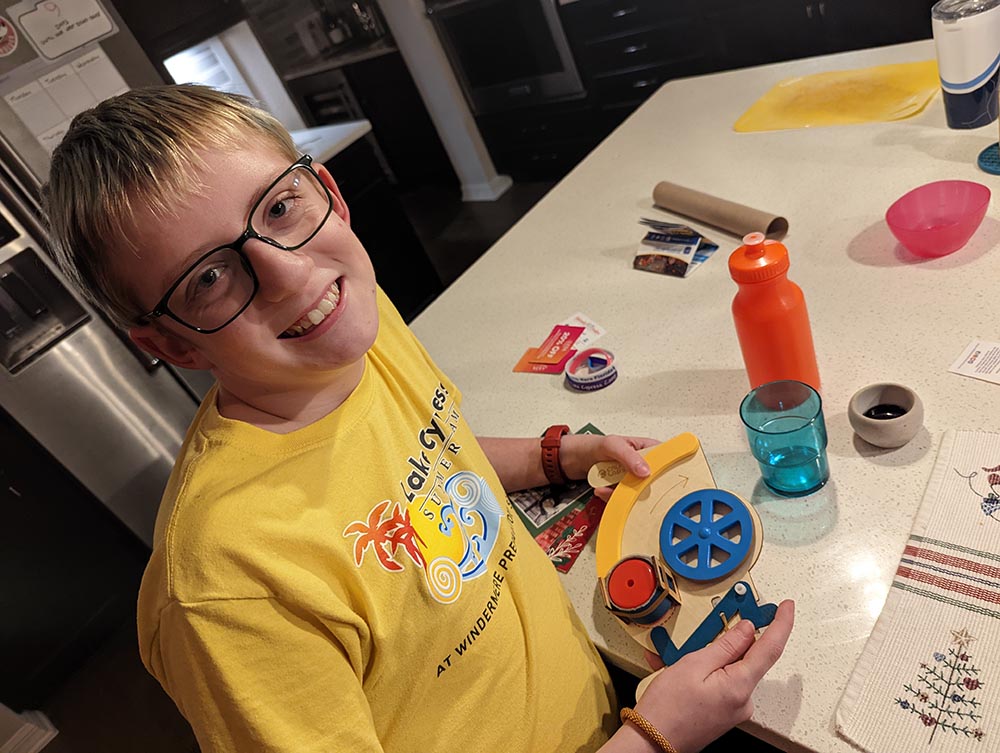 We subscribed to Mark Rober's Crunch Labs, for some fun science stuff. We're way behind on them though, as I have a stack in my office. Really quality devices though, and I I think the science is sticking with him.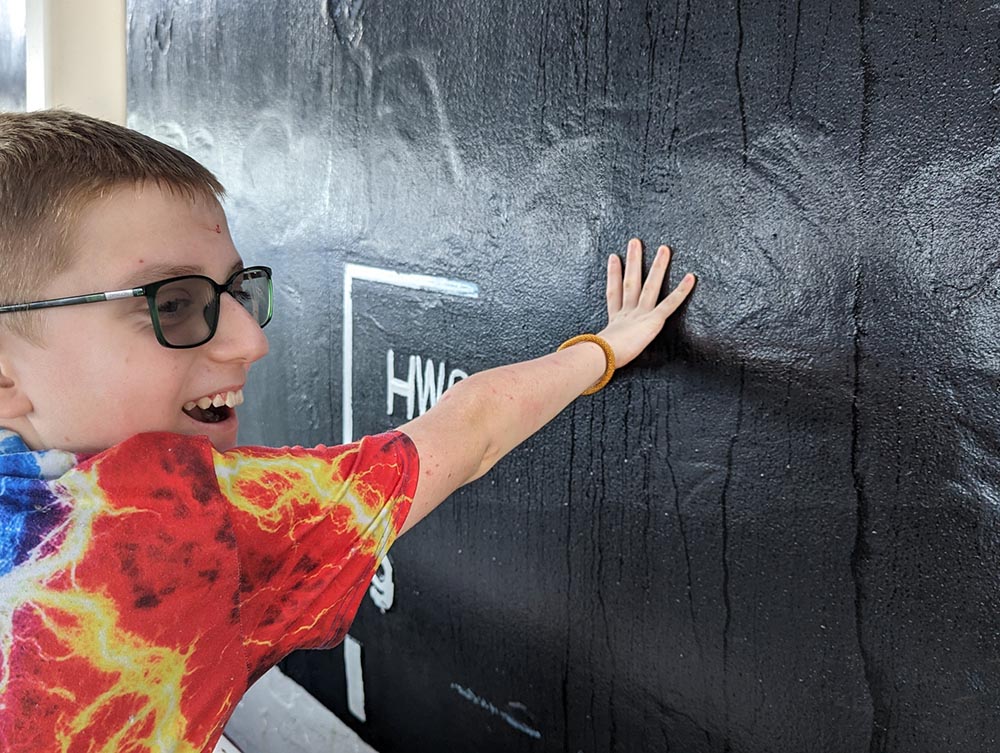 The week before Christmas, we did a week-long cruise in the Western Caribbean. One port had tender service to the shore, so Simon had a chance to touch the hull of the Disney Fantasy as passengers were getting back onboard.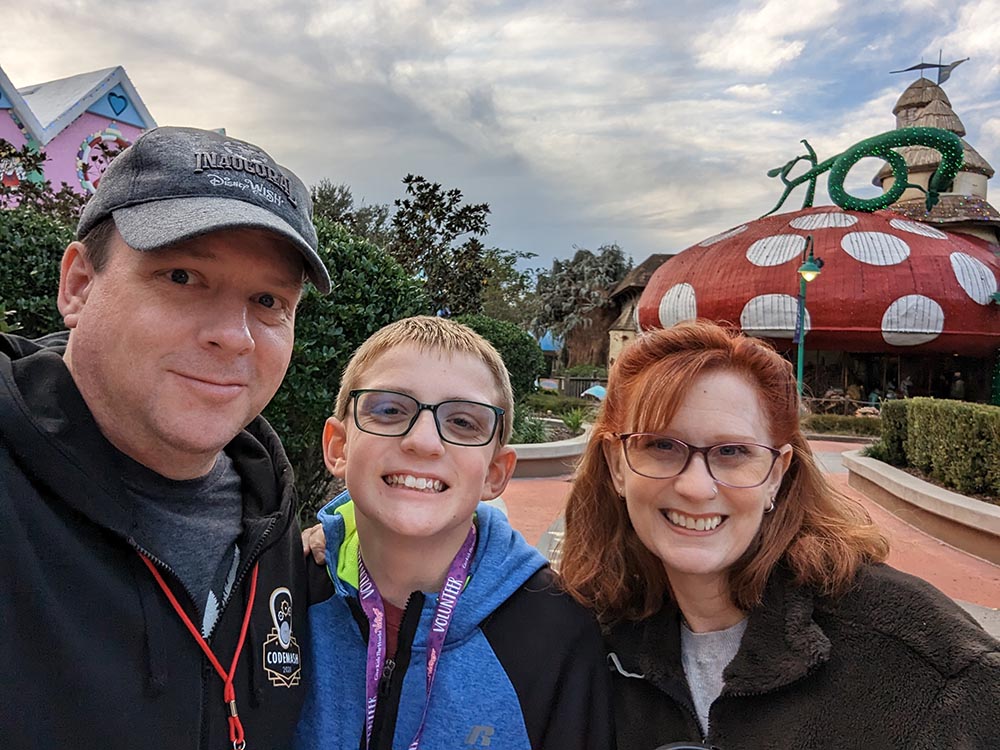 In what I hope becomes an annual Christmas tradition, we volunteered at Give Kids The World Village, as they get a little understaffed during the holidays. What Simon is really holding out for is the day he can assist with the ride operations.