Our third day in the city was mercifully not one that involved a ton of running around (only 7k steps on the Fitbit). I loved exploring the city the two previous days, and still find it remarkable that it's so easy to get around quickly. But as I mentioned previously, that Saturday was going to be cold, and we did have two shows to see. We didn't spring out of bed that morning either. As 11 o'clock approached, we headed down to Red Flame again, only to find they were swamped. We backtracked on 44th to Cafe Un Deux Trois, which was priced about the same but felt a little fancier. It got the job done.
The Kinky Boots matinee was at 2, but prior to that, we wanted to make an attempt at meeting up with one of Diana's college friends. She is currently working in the Carousel revival, which was in previews last week but opened yesterday (Thursday, 4/12), so work for her was just two blocks away. I only knew this friend via comments she made on Diana's Facebook posts, but had to resist being a fanboy because she was also the 11th actress to play Christine on Broadway in Phantom. As is often the case with people you only keep in touch with via social media, they had not seen each other in decades. They didn't have a ton of time to talk, but we walked her to the theater and she showed us tiny photos of her on stage in one of those photo collages that make a bigger photo out in front of the Majestic, where Phantom is still playing. (I was amused by the people queuing kind of checking her out, wondering if they should recognize her or say something.) I wish we had more time to talk, but I'll get to that shortly.
With the late breakfast, I was not really up for a big lunch, so we obtained baked goods from a Starbucks on 8th. From there, it was on to the Al Hirschfeld Theater for our second big show!
I didn't realize until we were sitting down, Playbill in hand, that Wayne Brady was starring in this show as Lola. It also has Kirstin Maldonado from Penatonix as Lauren. I missed the touring show in Orlando because that was the first year at Dr. Phillips Center, when we weren't subscribers, but I did see the movie, which I was kind of indifferent about. But knowing there was essentially a drag show finale, I figured at the very least the stage show would be a spectacle.
It ended up being pretty great in the general sense, and in fact the big conflict moments between the leads were way more powerful than they were in the movie. The minor twist as it relates to Lola's past is also a pretty powerful moment. Beyond that, yes, the dance sequences are pretty spectacular, and involve men doing moves that would certainly damage me for life. The members of the ensemble and minor characters are also pretty well drawn and generally charming. It's probably the most laughs I've seen in any show this season, too. If you can see it, see it. The music probably doesn't land in my soundtrack rotation, but it does have a few memorable songs for sure.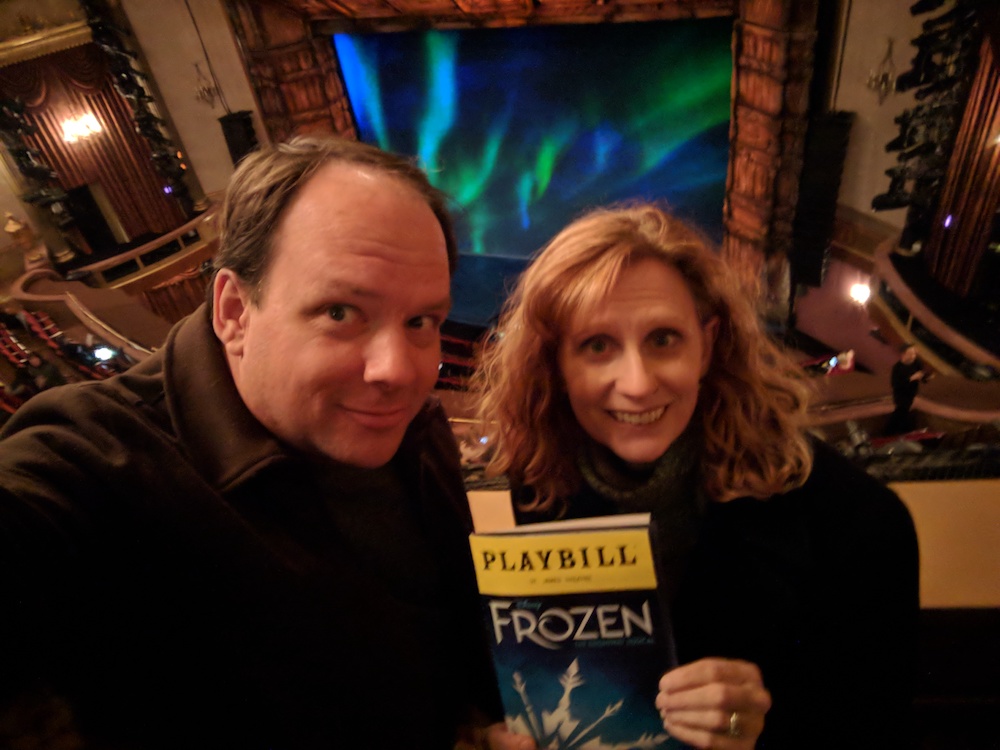 Between, shows, we had dinner with another one of Diana's college friends, who by day is a sound engineer and mixer, currently working on Rocktopia, but responsible for sound in a number of current and touring shows. He's also producing shows, so he's fairly plugged in. He also does some TV gigs now and then, which you've seen. The thing that I found interesting about his story is that he's managed to raise a couple of kids and still balance what is really a lifestyle occupation with family life, and I give him all of the credit in the world for that. I wish we had more time to talk with him as well, because my techie nerd side would love to hear more about what he does, while my closet business guy self would like to hear more about the producing.
Meeting up with friends that deep into Diana's past is always neat for me, because we didn't meet until our mid-30's. We have these gigantic parts of life, parts that shaped who we are, that pre-date our connection, and that's weird. I try to be topical with her earlier profession by my flirtations with college and community theater. Now and then I have a story about radio or TV days for me. But these are essentially different lives, and I wish we could give each other more context about them.
I'm also fascinated with anyone who has been able to make a living in the entertainment business. You have to fight like hell to "make it," and then keep fighting to stay in it. You're always looking for your next job. You have to believe in your creative gifts enough, willing to share them, to keep at it. It seems exhausting, but I wonder what it's like to be a part of something that moves more than a thousand people every night. I admire the people who do it not for some kind of celebrity reason, but because they have the tenacity and energy to keep doing it.
The funny thing about Disney is people love to hate them when it comes to art and integrity. And I get that, because deciding to do a stage version of Frozen certainly sounds like a cash grab. The thing is, they've made some staggeringly good, enduring movies, and Lion King on stage easily eclipsed the film. So while the company is a crazy gigantic conglomerate of sizable wealth, I think it's unfair to suggest that they can't make great art.
Still, Frozen, I think, is very nearly a perfect film. The strongest criticism that I've read about it is that it's hard to say who the film is about, though I think the question should be what, and not who. My answer is that it's about relationships of all kinds, including those you have with yourself. To that extent, the movie is like three or four subplots that overlap, and I think that's OK. The challenge in making it a stage musical is that there's virtually no music in the second act. They also recruited the screenwriter to write the book, which I think is a different talent. My hope for the show was that it would be as good as the film or better, and I wanted just once to see something with the original cast, so I can say I did.

I left the theater feeling that they did in fact make something better than the movie, and I really liked it. The spectacle of it was what you would expect, and if you saw the show on the Disney Wonder, they definitely borrowed some ideas from there in terms of visual design. The costumes and puppetry are amazing, the sets beautiful, and the lighting, video and effects generally serve the story. (Fun fact: The video designer, because that's a thing now, is the same person that did The Curious Incident of the Dog in the Night-Time, which frankly uses video as the set itself.)
The changes to the plot are not huge, but they necessarily added a lot of songs to the second act. None of these are filler. Like Lion King, they go a little darker, when Elsa contemplates the outcome of her own death, and Anna wonders if she'll die without really knowing love. I wouldn't go so far as to call this edgy, but it's a little more adult themed than the movie. The comedic highlight of the show comes right after the intermission, with a song called "Hygge," the Norwegian word for feeling comfortable. Shop owner Oaken wanders in from the crowd and eases you back into the show with a joke about the lines at the restrooms, when Anna, Kristoff, Sven and Olaf show up and find themselves in the middle of a kick line of Oaken's naked family.
This original cast is something to behold. In an unsurprising lineage to Wicked, Cassie Levy playing Elsa is a former Elphaba, which of course was originated by Idina Menzel, the movie Elsa. Patti Murin as Anna played Glinda, though not at the same time as Levy. Not to take anything away from Idina or Kristen Bell, but these two on stage take every song you know to a new level. The guy playing Olaf seems to be channeling Josh Gad, but I don't know how much people would tolerate deviating for that.
Overall, I loved it. I don't have strong feelings about it, since it is a derivative work, but I'd definitely see it again (if it wasn't one of the most expensive shows in town). They'll have to make some compromises in the staging when it tours (there are an awful lot of holes in that stage), and I wonder if they'd be clever enough to do some of the video projection custom to each theater.
We settled back into our room around 11, and I couldn't sleep again. Honestly, I would have liked one day more (yeah, I went there) to run around and see stuff. It would have been cool to see Carousel, too, if only because I "knew" someone in the cast. But as far as grownup, child free trips go, this one was fairly epic. It wasn't cheap, but I feel like we made the most of "us time" in a way that we have not in some time. I look forward to going back to New York, though I'm going to shoot for a May time frame instead.