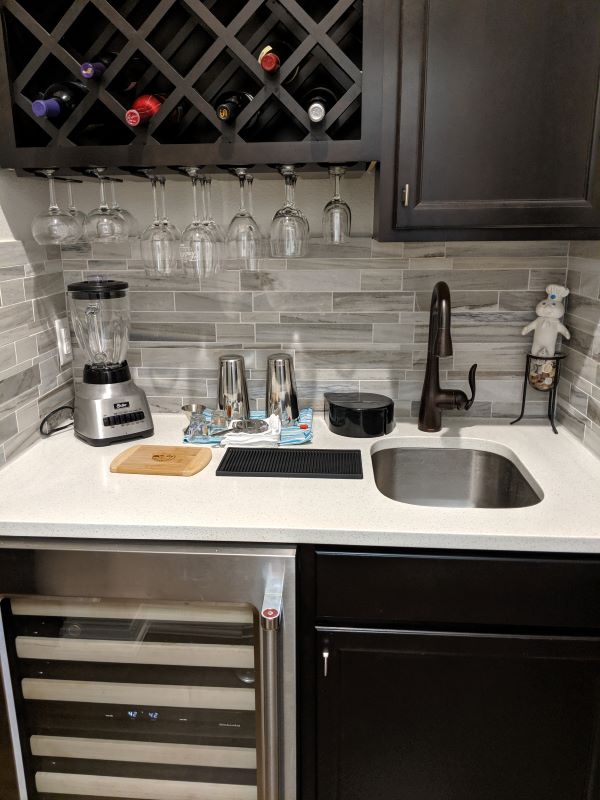 I've always had a complicated relationship with alcohol, because there's a fair amount of addiction in my family. I vaguely remember my grandparents on my dad's side basically having a bar in the trunk of their car on some trip. In college I didn't want to be around it until later in my junior year. Once I was legal, I enjoyed weekend beers but didn't have a ton of money for it. I drank a lot at parties and holidays after that, but relatively infrequently in a weekday capacity. As I progressed into my 30's, my body became less tolerant of beer, but I liked wine with dinner. Cider, especially Strongbow, became a favorite until they made it too sweet. I liked fruity vacation drinks, but never really encountered them until, well, vacations.
Moving to Florida enabled two behaviors: Frequent theme park visits and cruises. Both of these expose me to those fruity beverages on a regular basis. The thing is, other than the classic mai tai that I've made at parties for years, I've never really known anything about making drinks. Then we started doing mixology classes on those cruises.
Before that even, we did a cruise near the holidays where the drink of the day was the "Christmas cookie," and a few years before that cruise they posted the recipe online. It's a little work because of the ice cream, but it's fairly easy to get great results at home.
Another one came from a bartender that works the premium bars on the Disney Dream. It's pineapple juice, Midori and Malibu, with whip cream, shaken over ice and strained. It's so good. For a shot, we learned how to do a "mini-beer," which is 43 and a little heavy cream on top (tastes like ice cream). We learned how to do a really good margarita with George Clooney's former tequila, Casamigos, an orange liquor and a little lime juice (no "mix").
I revisited some college favorites, too. I mixed up the classic mudslide by using Bailey's, Kahlua and whip cream shaken. And since I had Bailey's, it was easy to get butterscotch schnapps for the buttery nipple shot.
Epcot had the easiest no-brainer, ultimate summer drink, I think at the Flower & Garden Festival. It's Bacardi Dragonberry rum with Welch's dragonfruit and mango juice. It's stupid easy to make.
Given my desire to share and make stuff for others, I decided to make the butler's pantry in the house super functional. I hated spending the money on it, but the options were to have that or an empty space, and it seemed kind of douchey. But now that I'm pouring for friends (and myself on weekends), I love it. I had to equip it correctly, so I bought all of the essentials, including Boston shakers, a strainer, a glass salter, a rubber mat, and I already had a little cutting board from last year's Food & Wine Festival. I also bought proper pour spouts for all of the bottles.
My pouring technique is really solid. I've had enough practice in the last year that I'm efficient and relatively precise. In fact, it was super validating on the last cruise when the bartender complimented me.
The down side of this little hobby is that it's expensive to have a lot of varieties of liquor on hand. The good stuff, like the Casamigos, is $40 a bottle. So we don't have a huge collection of things (although things like Malibu and Bacardi flavors are cheap for giant bottles), but we can make a solid variety of things for guests.