See also: Part 1 Part 2 Part 4
Continuing with a big pile of cuteness, this is another shot of Simon in his first few months when we lived in our apartment in Issaquah. I did a bunch of these, and they're all pretty much just as cute. I actually used this photo with a background of radial lines as the splash screen for my little Baby Stopwatch app that I cranked out years ago. I call it the 40-Year-Old Virgin shot, because it reminds me of the poster with Steve Carell for the movie.
I have to admit that it's hard not to make a great photo when your subject is something pretty. This is just such an example. It is of course a shot of Mt. Rainier from the south side, at the Paradise visitor area. I have this on a canvas on my wall, and people seem surprised when I tell them I shot it. Again, how do you screw this up? I have a similar shot with a brief time exposure that blurs the water, but I'm not sure if I like it. This visit is from 2011, a month or so before we (mistakenly) moved back to Cleveland.
You have to shoot a lot of photos of your kid to get the really cute ones. It seemed like it was even harder, however, to get one with Diana in the same shot. It's like the stars have to align just right. This still isn't exactly what I would have liked (you can't really see Diana's face), but it's yet another golden light glowy situation and I love it. This is from a deliberate photo shoot we did behind Towslee Elementary in Brunswick, Ohio, at the playground. It was September, 2012, so Simon was about 2.5.
This next one is technically a mess because it's out of focus, the lighting is awful, I didn't really color correct, etc. None of that matters, however, because it's a priceless moment of Simon with my mom on one of her visits to Cleveland. It was January 2013, so Simon wasn't quite 3 yet.
This is where our Disney Cruise problem began, in February 2013. It was a pretty well-orchestrated surprise for my father-in-law, where we joined him and Helen Ann and my bro-in-law's family. It was a lot of fun, especially since we don't get to see them very often since moving. I took this shot on our last evening as we were pulling away from Castaway Cay, and just before dinner. Simon looks reflective, but mostly he was just fascinated by the movement of the water. I love the trail of the wake in the background, how it curves to the left. This was shot on my little Canon S95, which continues to serve me well after nearly five years.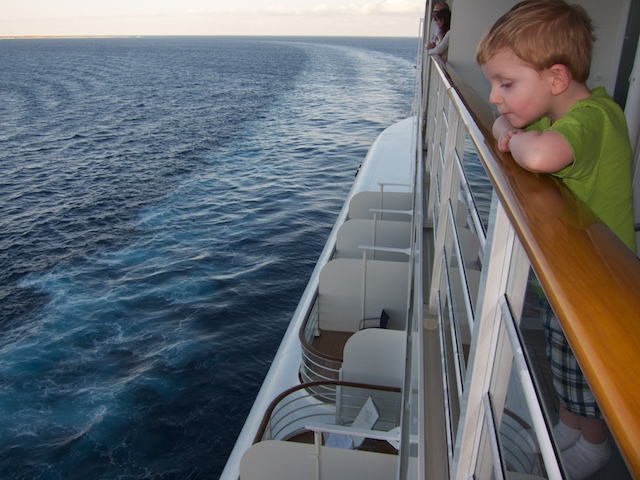 If I could identify a moment where it was clear that we were done with Cleveland weather, this might have been it. It was March 25, 2013, and we were blasted with snow, very suddenly. I believe I was working my contract gig from home that day, so I busted out the camera with the long lens, and took a few shots of our back yard and the sledding, from inside. I have to admit, however, that the easement behind our house was actually an awesome sledding hill, and of course I got out there for a few runs myself later on.
It's also worth noting that this is the first of the series that I shot on the Canon 7D, even though I first acquired it in 2009. Because of the smaller sensor, and love of wide angles, I don't use it as much. It's a fantastic camera, I just don't want those 17mm focal lengths cut down. On the other hand, when you've got a long zoom on it, it works to your advantage, as was the case here.