I figured that our time on the Disney Dream was something that probably should be its own post separate from the ports on the cruise. In some ways, I would not even expect there to be anything new or novel about being on the ship, because we've been on it 15 times prior. The Dream, for over a decade, only ran back and forth from Port Canaveral to the Bahamas, meaning Nassau and Disney's private island, Castaway Cay. Then a little over a year ago, it was rotated out of that position, and the Disney Wish took over those itineraries. The Dream, therefore, was essentially our "home" ship. It is deeply familiar because we've spent nearly two months of our lives on it.
So it was kind of a funny when the itinerary that we wanted, the Northern Europe thing, was going to be on the Dream. It has also been doing the Mediterranean, and I think after our trip, it did one that was almost all Norway ports (which in some ways, I think I might have preferred). When we rolled up to the ship in Southampton, it was kind of weird seeing a ship that, dry dock treatments aside, had only been in three ports. But I suppose that also made everything easier for us. There are no mysteries aboard that ship, saving all of the adventure for the ports.
A few days before we left, they dropped the second of the three Iceland ports that we were supposed to visit, Isafjordur. It was the smallest of the three, in terms of population, but the views, and the bus tour that we booked, seemed pretty epic. The official explanation was an issue with port construction, and deeper questions suggested it had to do with the dredging in the port, which was not on schedule. Obviously you don't want to run a billion-dollar ship aground. Tender boats were probably not an option because that town was simply too small to accommodate such a thing, and there was already another, smaller ship that would be in port that day. We got like $45 in port fees back, but I wish there was something more. Losing this port meant five at-sea days, and changed the value proposition of the itinerary.
Boarding was a little slow going, as I said previously, and it was later clear that the rail strike meant a lot of people relying on the train from London got in pretty late in the afternoon. I'm glad we booked the private car. But once aboard, it was like any Bahamas trip. We had some lunch in the Cabanas buffet, dropped our carry-on bags in the room at 1:30, when the staterooms were available, and secured our key cards and lanyards. They're doing some new lanyards for the 25th anniversary of DCL, made of faux-leather with a Mickey imprint, instead of the usual office store stock standards. It was also the first time we saw white lanyards, indicating the 25-cruise Pearl level. We've got one more to get there.
We got Simon registered for Edge and Vibe, the tween and teen clubs, and he was off on his own. He's actually been pretty independent since he was 9, when we got him a cheap Android phone off Amazon to use the onboard chat app. Back then, we allowed him to check himself into the kids club, but not out. Then we gave him out privileges, and obviously now he just does whatever. I think it has really given him the room to figure out how to be social on his own, even if much of that social interaction ends up being with the youth counselors.
After dinner in Animator's Palate, and meeting our dinner servers, we headed one deck up to the Skyline Lounge. This is the martini bar found on the Dream and Fantasy. It's kind of tucked away back in the corner. One side of the bar is all video screens that change between various famous city skylines from around the world. The menu (on iPads), features drinks themed to those various cities. There are a number of reasons that we so consistently spend time in this bar. The first is that it's generally quiet. It gets busy right before the second dining, with a little burst after, but we almost always sit at the bar. We're also cocktail people. We aren't beer people, and we enjoy good liquor (responsibly, of course, usually). This is also where they tend to put some of the most skilled bartenders, and do the mixology classes. Between the Dream and Fantasy, we've never had a head bartender that wasn't awesome. Best of all, because it's not usually crowded, we inevitably meet interesting people here that we can have good conversations with. With a 10-night cruise, and missing only one night in that bar, we met a ton of people that will undoubtedly be long-term contacts. Some of them, actually many, also are local to us, and we already have plans to meet up with them. That is completely fantastic.
On our first at-sea day, after France, we had our first mixology class. A guy named Vlada, from Serbia, ran the class, and Skyline. We were going to do more of these classes, but he only switches it up once during the long itinerary, so we would only do one more on our last night. We walked away from this cruise with four new interesting drinks, two of which are variations on things we already make. One, the Purple Rain, we added to our menu.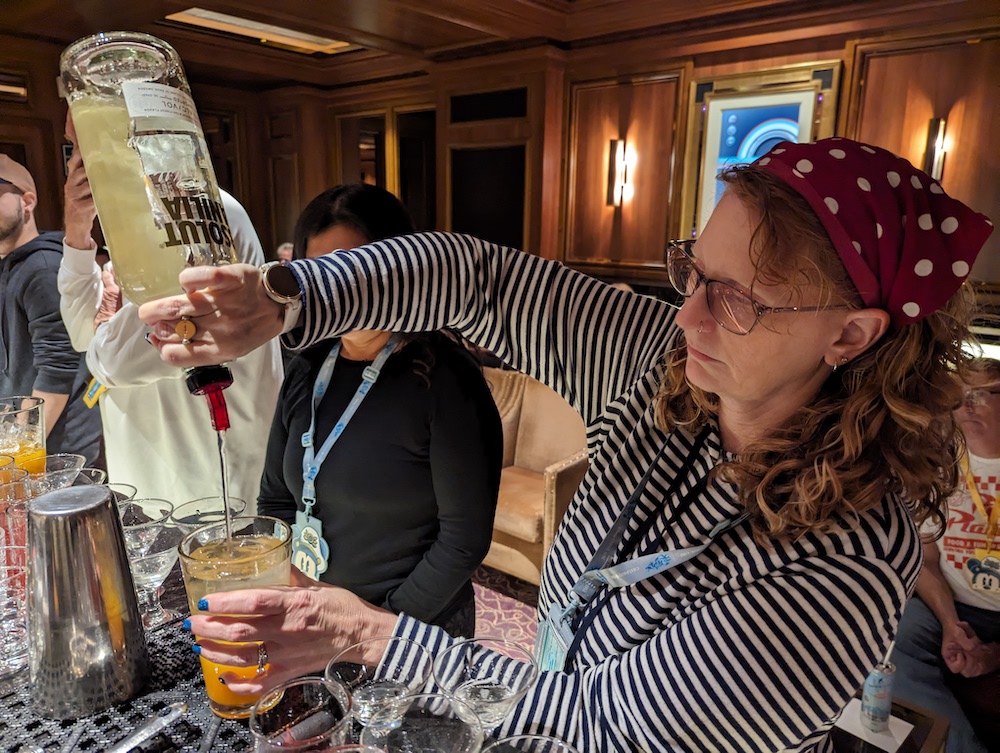 We had some good conversations with entertainment people on this cruise. I wrote about meeting some of the execs involved with entertainment in my lighting rant, and we also got to see a "lights on" performance of "Be Our Guest" from their Beauty and The Beast show. They put up the video feeds from below and around the stage, and piped the stage manager's headset audio into the theater as well. For theater nerds like us, this was awesome. We had a few good conversations with a young violinist, who managed to play along to requested music that he had not previously tried. People who can do stuff like that blow my mind.
Our three days in Iceland got progressively colder. On the first day, after our excursions in Reykjavik, I did go in the hot tub before the bulk of folks made it back to the ship. I had the one in the adult area to myself, with nothing but the fjords in front of me. The next day was at-sea, and people were generally spread out on the deck with blankets and such (these are provided in Alaska as well), reading and taking in some intermittent sun. That was the day that we briefly entered the Arctic Circle, so I can say that I've been there. We watched the latest Indiana Jones movie that afternoon, and I thought it was brilliant. Watching it with a thousand other enthusiastic people may have colored by perception of it. The third day, in Akureyri, was a lot colder. I was already nursing a sore throat from the snoring all night in the very dry air inside our room, and this did not help. After our excursion in town, we came back to find that the carpet in the hallway in front of our room had been replaced. It was super squishy. I didn't think the old carpet was in bad shape, but this is the reason that every ship in the fleet seems like it's new.
Our at-sea day between Iceland and Norway was suboptimal. I slept poorly the night before, didn't even go to Skyline that night, but I just felt like crap all day. I brought back food to the room and intermittently slept and watched movies most of the day. I'm kinda pissed about it, but some of this is just affirmation that me and cold weather are not entirely compatible. I skipped dinner, because I didn't want to deal with that scene (more on that later). I did feel slightly more human by 7 or so, and I did have a dessert cocktail that night. I still called it pretty early.
I jumped out of bed the next morning, and Diana and I walked around Alesund, Norway. There were not a lot of open things, because it was Sunday. It ended up being our favorite port day, easily. That night, I felt like I was able to resume some amount of normalcy. Some California friends we met previously came back to the bar, and the dude was celebrating his 50th with a very expensive bit of rum served in a very expensive glass.
That led to our final day at sea. The weather had finally changed for the better. It was sunny, and somewhere in the 60's. The pools were full (note that the water is always warm, because it's heated by excess engine heat), and the lifeguards didn't look like polar explorers. Lunch was just beautiful, out on the aft deck outside of Cabanas. Because we were between Norway and Denmark, the cell phone signals were pretty solid, and I was able to pinpoint our position on my phone. The sun very much lifted our spirits.
We did the walking tour of the ship, the "art of the theme" or something like that. I've done that many times before, on all of the ships, but it's always a little different depending on who does it. Olivia, from the UK was our guide this time, and she was hilarious and entertaining, and I saw a few things I had not seen before. That was fun. She happened to point out that, for reasons unknown, the designers decided to put mirrors on the ceilings of the restrooms in The District, the aft bar area on deck 4. Sure enough that night, I had to check, and of course I had to take a picture.
At the end of the tour, we ran into Tony From Spain, or as he likes to say, #tonyfromspain. Tony has been a fixture on the cruise line for almost as long as we've been doing these, over ten years. He hosts countless entertainment events, we've seen him on Castaway playing tunes, and now he seems to be gaining more responsibility. We were wondering if they were grooming him for a future cruise director position, but he says he still has some way to go for that. Nice guy though, and always fun to talk to.
On our disembarkation morning, for the first time, we skipped eating in the main dining room, and instead ate in Cabanas. This was pretty much always a thing, we just never did it before. And usually, that's because we liked seeing our dining team one last time before getting off the ship. But there's also more pressure to get off quickly. This time, we checked with our stateroom host, and she said that as long as we had our stuff out by 8:30, it was all good. So after admiring the wind turbines from our room, we had Cabanas breakfast at a leisurely pace.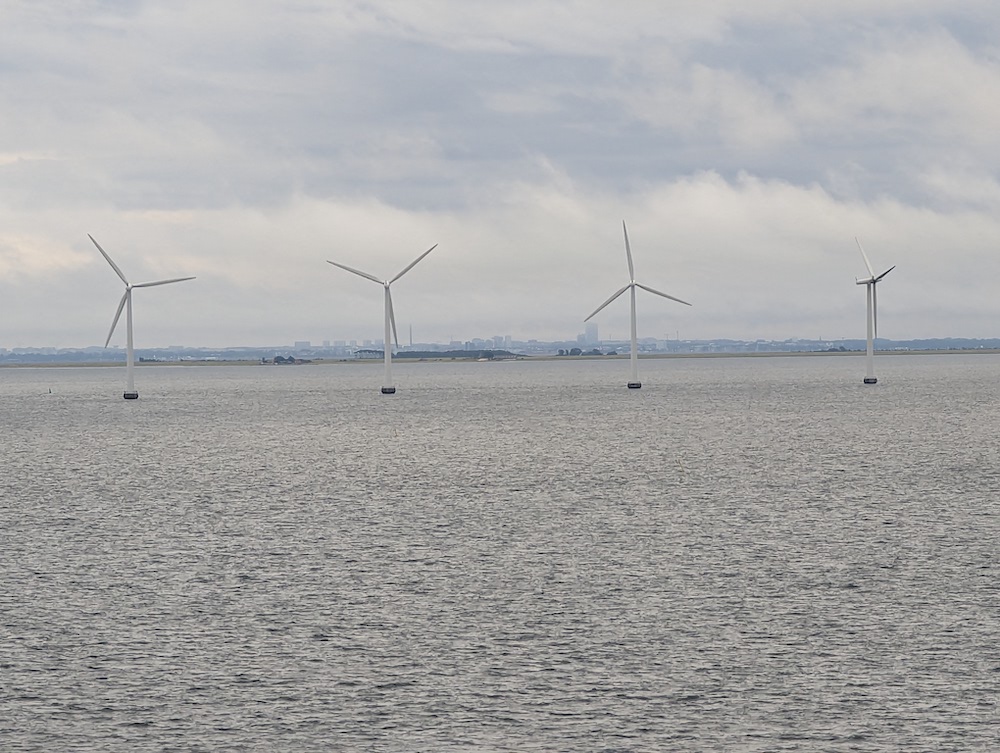 So let's talk about the dining situation. The dining service is usually the hallmark of the service standard relative to this cruise line. You rotate across three main dining rooms every night, but your service team always follows you. So by even the second night, usually, they know you well enough that they can almost predict what you'll choose from that night's menu. On the 23 prior cruises, we had one team that was efficient, super fast, but not always the most courteous or on top of things (last December on the Fantasy). This time, super nice guys, but they were pretty terrible at time management. After the first night, we fortunately got them commit to getting Simon's food out almost instantly, because he's not great at waiting. Frankly, I'm not either, so I was kind of annoyed when we'd see the first plate come out like 45 minutes into the service. There were prior cruises where we might be done by that time!
And when something wasn't right, our main server kind of freaked out. I had some really dry chicken one night. That's fine, I've encountered that before. His resolution for this was just to throw all kinds of food at me that I wasn't going to eat because I can only eat one meal a night. I'm a picky eater, sure, but typically something works. In the absolute worst case, especially after drinks, there will be late night pizza or tenders. But it was the long waits that I didn't understand, when we watched another table's service team just crank out the dishes.
The night of my sick day, he had told Diana he would surprise me with Indian food the next night. She of course told me, and I just headed that off and said, no, let's just skip to what you're suggesting, because I'm not gonna order something and then be "surprised" with something I don't have room for. So despite me explaining from day one that I don't eat red meat and seafood, he brought out some fish curry. I just couldn't get how he got there. I quietly pulled the head server aside, and talked to him outside with a general plea to get this guy some serious training. He meant well, but he was just not good at this. I also explained that I thought their comment card rating system was being used in a toxic way that made the servers fear anything less than a perfect rating, probably because they weren't renewing contracts. That's a hard job already, they don't need that stress. I ended up emailing corporate about that perception, and had a nice call with their executive guest service director yesterday. She seemed very receptive and we talked about management stuff. She also promised to send along my kudos to a long list of people who were awesome.
The port in Copenhagen didn't have a proper elevated gangway, so we went out via deck 1, as we would in most non-home ports. The line to customs extended outside from midship, almost all the way aft, so you could see the insane amount of activity as the ship was being restocked with entire pallets of vegetables and toilet paper and who knows what else. It's really something to behold, and by that time, I suspect most of it was already done.
And finally, because I forgot to mention it in my Copenhagen post, the weirdest thing happened at Tivoli Gardens a few hours later. We had only been there a few minutes, when suddenly a bunch of a bunch of attractive young women started yelling Simon's name. It turns out they were the youth counselors, taking a brief shore leave on the turn-around day. Simon knew at least one of them from a previous cruise. They were all very kind to him and looked out for him, and they always make him feel special. They even wrote a card for him on the last night. It's another reason that we stick to this cruise line. Regardless of the situation at school or in life, Simon is always treated well on these ships.